I've started an ongoing long term craft project to make a group of different butterflies using Punchneedle embroidery – all different colours and shapes but all based on my interpretation of real species – and mount each one individually on a wall so they all 'fly' together in a colourful cloud.
It took me the best part of a year to sketch up the design for my next Punchneedle butterfly, and only a few pleasurable hours to transfer my design, punch it, wire the wings, back it with felt, and trim it… You may have seen my in-progress shot a couple of weeks ago on Twitter: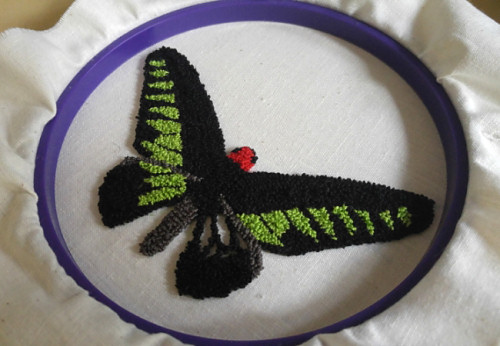 Rajah Brooke's Birdwing is the national butterfly of Malaysia, and all our attempts to spot one during our trip to Borneo last year were in vain. I decided to make up for that disappointment by creating my own in punchneedle – the bold electric green on black makes for a spectacular design…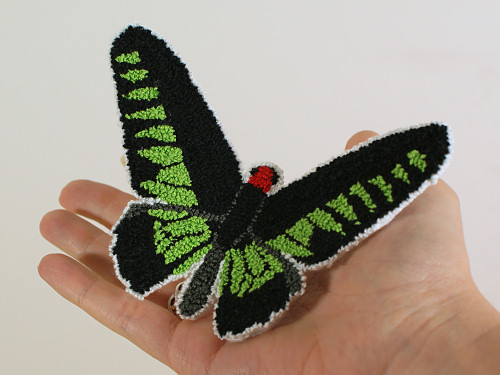 Each of my punchneedle butterflies is designed to fit inside a 6″ embroidery hoop, so my collection is definitely not to scale. While my Peacock and Sea Green Swallowtail are both much larger than their real-life counterparts, birdwing butterflies are huge, and my 'Brooke Butterfly' (as they called it in Borneo) is actually just about life-sized!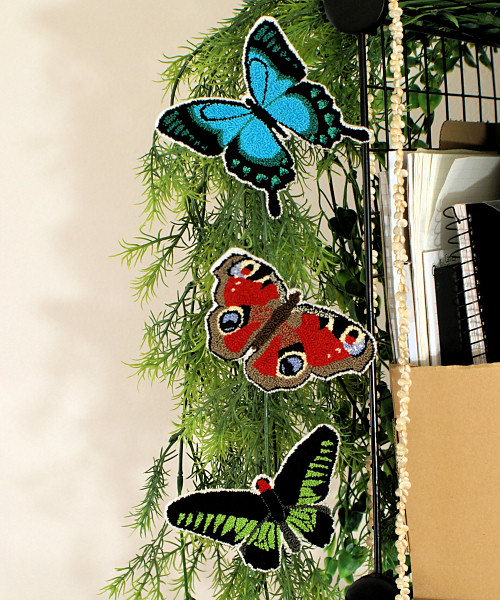 This brings my little collection to three, and I think my butterflies are almost ready to leave the safety of my shelves and migrate to their eventual wall display. I'll probably get started on that when I've completed one more design…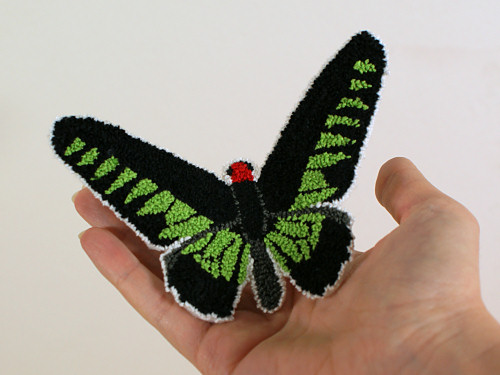 This is a very long-term project for me, but I'm so enjoying seeing my small collection slowly grow with each new butterfly. I think I'll try to make a Monarch next, although it'll be fiddly to make: punchneedle is best suited for bold shapes, not fine lines. But the Monarch is my favourite butterfly from my time in Canada, so it wouldn't feel right to omit it just because it'll be a challenge.
While it's a shame that my punchneedle patterns don't really sell well enough to justify making any more, there's a silver lining to that too: it gives me the freedom to call this project pure art, with no constraints for making the butterfly designs easy to replicate by others. If that changes at some point in the future, I'd publish all my butterfly patterns as an ebook and grade the designs by difficulty, so it's still not a bad idea to make my Monarch. And, if not, I'm enjoying making my butterfly collection, and I hope you're enjoying seeing them!
If this post has piqued your interest in Punchneedle embroidery, take a look at my Punchneedle intro page for information on this craft and how to get started.