I'm really enjoying butterflies at the moment. I love sitting in the sunshine and watching the butterflies float over my garden, but they almost always refuse to land and let me capture them in a photo. Here's my favourite photo I've managed to take so far, thanks to the lure of my pretty Pompom Tree: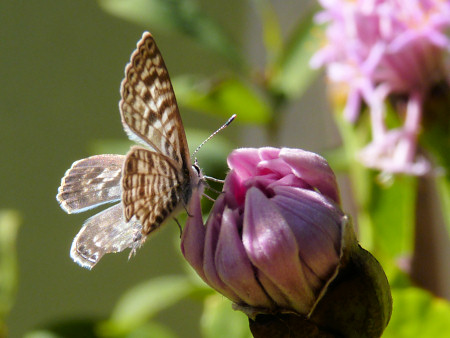 I think it's a Common Zebra Blue (it was blue on top!) but don't quote me on that…
We've visited Butterfly World in the Cape Winelands – a butterfly house makes it much easier to see all sorts of butterflies close up and take photos, and we'll definitely be going back – but it somehow feels like cheating once you know they have to import 300 chrysalises every week to keep the tropical butterflies on display, so it's not exactly a natural environment… Anyway, here's one of my favourite Butterfly World pics: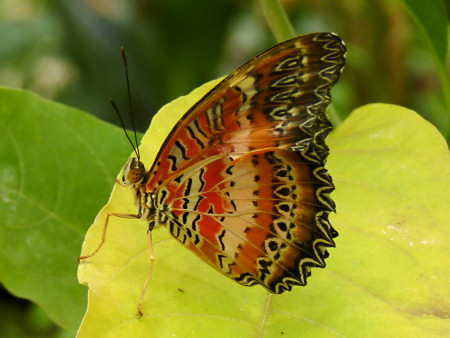 No idea what type of butterfly this is (Butterfly World is a bit lacking in info), but just look at those markings!
And, in my downtime, I've been enjoying playing Flutter: Butterfly Sanctuary on my phone – it's a beautiful, non-competitive, casual game where the goal is to attract and raise different species of butterflies in your own little patch of rainforest. It's even educational, as all the butterflies are based on real species and there's a fun fact to discover about each species! (Yes, this is the kind of game I'd be making if PlanetJune ever expanded into game design!)


If you're looking for a relaxing casual game for Android or iOS, I can recommend Flutter!
Naturally, my thoughts turned to making some butterflies of my own – bright, beautiful butterflies to display in my house and inspect whenever I want, many-coloured and patterned after real species. I can't achieve that level of detail in crochet without tiny stitches (my hands say no thanks) or lots of surface embroidery (to me, that's 'cheating' – it's not my design style) and then I remembered my old friend punchneedle embroidery…
Punchneedle is the perfect medium for the butterflies I want to make! Using multiple colours doesn't increase the difficulty the way it would in crochet, and I can choose from hundreds of shades of embroidery floss to make each butterfly just right. I haven't had a chance to do any punchneedle since before I left Canada, and now I'm going to make time to play – it'll be healthy to have a fun ongoing non-work-related craft project. I'll be making them in a similar fashion to my Punchneedle Poinsettia design, so I'll cut each one to shape after I finish the embroidery and there'll be no background around the wings: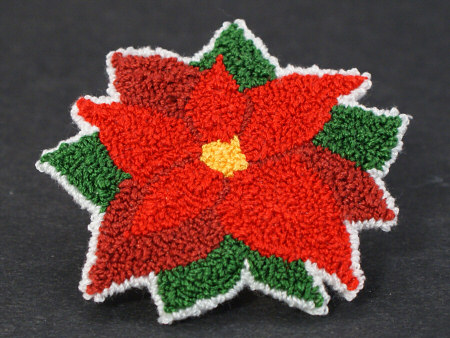 My vision is to make a group of different butterflies – all different colours and shapes but all based on my interpretation of real species – and mount each one individually on a wall so they all 'fly' together in a colourful cloud. The great part of my plan is that each butterfly will be its own mini work of art, so there's no pressure to complete the project – I can just design a new butterfly whenever I feel like it, buy the right shades of floss, make the embroidery, and then add it to the group. The project will be finished when I get bored with it, or my swarm of butterflies may continue to grow forever…
Isn't this a great idea? My first punchneedle butterfly will be one of my friends from the Flutter game: a Sea Green Swallowtail – I'll share the results with you soon!