It's taken a while to get to this point, but my Meerkat crochet pattern is finally ready to release!
Meerkat Fun Facts
Meerkats live in southern Africa and are related to mongooses.
They live in clans of about 20 in large underground burrows.
They primarily eat insects but also munch on scorpions (they bite off the poisonous sting first).
One meerkat always stands guard to look for danger such as eagles and jackals while the others forage for food.
Their dark eye patches act like sunglasses to protect their eyes from the strong desert sun!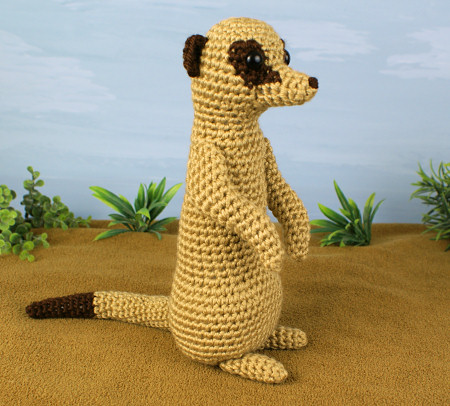 Amigurumi meerkat reporting for guard duty!
What Makes a Good Cover Photo?
As I've been talking about my process with this design (see the Design Reports #1, #2, #3 and #4), I thought I'd give you one last glimpse into what goes into a PlanetJune pattern: the cover photography.
My pattern was ready before the end of April, and all that was left was to take the cover photos. I had a great plan to take them while my Mum was visiting: we'd be passing through all sorts of natural African landscapes, so I'd take my camera and meerkat with me and take his photos on location in his natural environment!
We picked a day forecast for intermittent clouds and set out, only to find non-stop brilliant sunshine all day, which was great for Mum on her holiday – we had a lovely day relaxing in the sunshine and admiring the views – but not quite right for my cover shoot: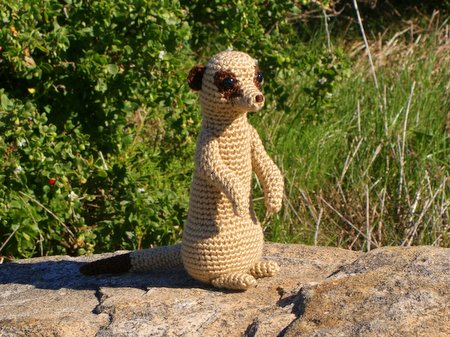 Full sun means deep shadows, and that's not what you need for cover photos! Although appealing photos play a critical part in selling a design, it's very important that you, the potential customer, can clearly see exactly what you're trying to make. A set of dull studio photos where you can look at the meerkat from every angle is more useful than a stunningly artistic nature photoshoot where you can't really see the meerkat well. In these photos, the eye patches are overshadowed by actual shadow, the arms cast distracting dark shadows on the body, and the tail is all but invisible in deep shade.
I tried again in a different spot, but the sun was unrelenting (although I still think this photo is really cute!):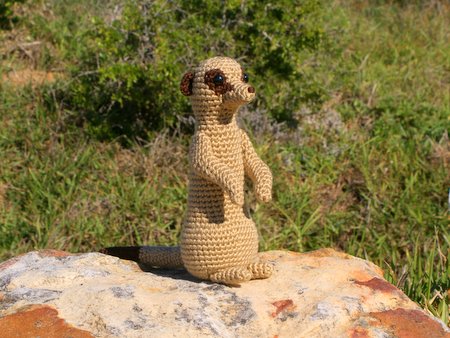 So my pattern was stalled until Mum had gone back home and I could head back to my studio to recreate the Meerkat's natural environment, PlanetJune-style.
I'm so glad I gave myself permission to drop the deadlines with my pattern commissions – I really wouldn't have been happy to release the pattern with unhelpful cover photos, and I think taking the extra time at every stage of this design and pattern-creation process has really paid off. The final photos may not have the realism of the location shoot, but you can appreciate the meerkat's cuteness much more with this set of photos, don't you think?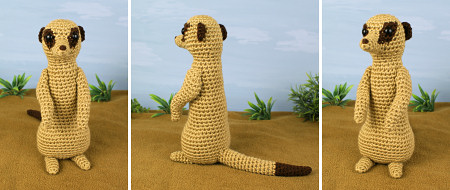 If you were one of my patient patrons who commissioned this pattern, the pattern is, at last, ready for you to download from your PlanetJune account – thank you!
For everyone else, don't you think you need a meerkat to watch over you while you work? Buy the Meerkat pattern from the PlanetJune shop and you can crochet your very own meerkat sentry!
Or, if you're not ready to buy just yet, add Meerkat to your queue or favourites on Ravelry, so you don't forget about it:
I hope you like my Meerkat – getting to this point has been quite a journey, hasn't it?!
---
I'll be taking a short break before I begin my next commission. Life keeps throwing unexpected challenges at me, and illness and worry make everything a struggle. As I said in my Year in Review plan, I need some time with absolutely no commitments to escape this whirlpool of stress and ill-health, then I'll have the energy to do justice to my Camel commission! I've been looking forward to making my camel for a very long time, and I still am – I just need a little space to breathe first 🙂