2013 has been one crazy non-stop year! I love making these annual reports – it's a way to take a step back and really see what I've achieved in the year. Until I started this post, I felt like I hadn't accomplished much this year apart from the new book (which will unfairly count as next year's accomplishment even though 95% of the work was completed in 2013). It turns out that's not true at all: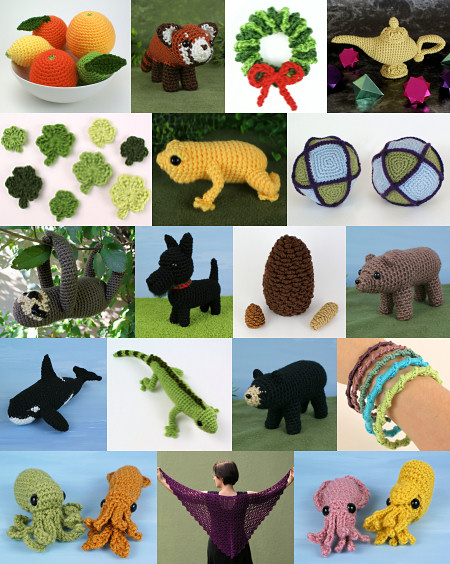 PlanetJune 2013 crochet patterns – if you'd like to make any of them this month, the 2013 Designs CAL starts today in the PJ rav group
I was surprised to discover that I've actually published 18 new crochet patterns – that's about 3/4 of my typical annual average! If I add all the patterns I've designed for the book (which I can't show you yet, but there are lots!), I've actually designed many more patterns this year than in previous years.
And I managed to squeeze in 9 craft projects – 6 crocheted, 2 knitted, and 1 sewn:

My 2013 craft projects
The rest of this post is long, personal, and introspective, but my life and my business are so closely tied that talking only about PlanetJune without explaining the changes I'm making for myself wouldn't paint the real picture. I don't like to overshare, but honesty is important – I want to explain the reasons for my big decisions. Feel free to skip it if you're not interested!
Personal Report
2013 has been probably been the most challenging year of my life. For the past 3 years, since discovering we'd be leaving Canada for South Africa, I've been struggling against sickness, moving halfway around the world, culture shock, dealing with a growing business that takes more and more time, and constant other challenges that never let me take a breath. Every time one crisis was over, something else came up, but I felt like I just had to keep going, as there was no other option – things have to get done, and there's nobody else who can do them.
Well, now, I feel like I have to not keep going – there really is no other option. I'd like PlanetJune to be around for many years to come and that won't happen if I don't start looking after myself. I've struggled for 3 long years and that's enough: it's time to take care of myself.
I'm absolutely worn out. I'm spread far too thin – the challenges of my life take a lot of time away from my business hours, and I've been forced to work longer hours than I'd like while achieving less than I want to. It's frustrating when there's so much more I want to do, but that's just the reality of my life.
Taking on another book when I was already feeling very fragile (after a very tense few months of jumping through ridiculous hoops to try to get my visa renewed before it expired) wasn't a healthy move, but you have to make sacrifices for things you really want. This was a book I really wanted to write, and an opportunity that wouldn't come again. I'm very happy to have written it – I think it's an amazing book! – but now it's finished, I'm drawing the line. I can't take on anything else, no matter how tempting. I'm not healthy and I need to change that, and I need to make time to enjoy the advantages of living in South Africa – good food, natural beauty, and wildlife galore!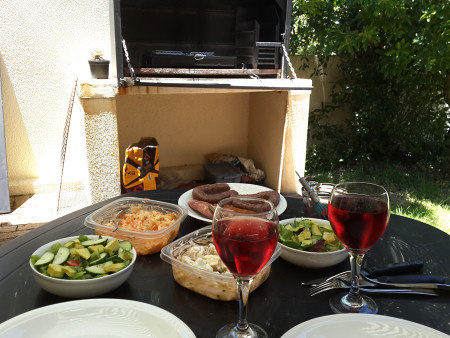 We've already made a start on that over Christmas: a simple relaxed braai (barbecue) in our garden for Christmas, a trip to the Cape Winelands to go cherry picking; watching a sea turtle and rays being hand-fed at the aquarium; and an amazing encounter with a large troop of wild baboons (don't worry, we were safely in the car at the time). I'll be resurrecting my SA wildlife photoblog post series so you can share some of my nature encounters, starting with those baboons, coming soon 🙂
Business Report
Despite the fact that I've been pulled in multiple directions this year and haven't been able to devote anywhere near as much time to PlanetJune as I'd like, my business income has stayed on par with 2012. That's actually a huge achievement when you consider I've probably spent less than half the time on it than I have in previous years.
Looking back
In 2012's review, I said:
This past year, I've worked harder than I ever have in my life… But the big goal here is worth it: to transition my business from a very hands-on one-person business to an automated one-person business, so I can spend the majority of my work time creating new designs and tutorials. I'm trying to… grow past the one-person level without expanding or outsourcing. I'm hoping that all my automation strategies will pay off in 2013, and I'll have a virtual assistant (in the form of my own website and systems reducing my workload) instead of having to hire an actual assistant.

Although I anticipate another year of very hard work behind the scenes of PlanetJune, I'm giving this plan one more year to succeed. If it doesn't, I'd have to either find a way to scale back my business, or take on minions (unless I can come up with another alternative, as neither of those options appeal to me).
I still think my plan was good, but unfortunately, all the unforeseen non-PlanetJune time-grabbers that came up in 2013 mean that I've barely had a chance to progress with it. It looks like I'd have another year of hard work ahead to get all my ducks in a row and see if I can really make my business sustainable for the long term without overloading myself or outsourcing. But I can't keep forcing myself to maintain the pace I have been for the past few years, so scaling back some of my ambitions is the only way I can keep going.
What's next?
These are the absolute requirements for 2014:
Get healthy
Make time to get out and see more of South Africa
Enjoy myself creating new designs with no time pressure
And, if nothing else comes up, I hope I can manage these too:
Complete the behind-the-scenes tech upgrades and pattern updates
Continue with my pattern commissions with less-pressuring deadlines
(Possibly) get the homepage and shop redesign completed
That list encompasses so much less than I'd like to do, but, realistically, even that sounds like a lot to take on, and I can't push myself hard any more. There are dozens, or possibly hundreds, of exciting design ideas floating around inside my head, and some of them are desperate to get out! I need to look after myself so I can make that happen, and start enjoying my life again.
I've realised some things while working on this book: I don't do well with deadlines. I don't like working under pressure. I want my work to be right, not the best I can manage in the time available. While I'm very proud of the book, getting it to meet my standards in such a limited time pushed me almost to breaking point, and I don't think I'll repeat this process again.
I'm fortunate that I'm not motivated by competitiveness or money – I want the things I do to count; to hopefully make a difference to people, or at least to give me the satisfaction of having done the best I can. Of course, I'd like to make a good living too, but that's really secondary to living a fulfilling life.
So, I will be true to myself. I will only take on projects I really want to do. I will let go of projects that aren't working out. I will love what I do, and if you love it too, that's even better, but being genuine comes before anything else.
This feels right: looking over all my designs, I feel that my work has a calm, tranquil aspect to it, and I'd like that to be a reflection of the real me too, not just the PlanetJune style.
Here's to a positive and relaxed 2014 – let's make it a great one!