Today's PlanetJune Story shows how easily you can brighten someone's day with crochet. When Nancy Smith, the chairman for the Crochet Guild of America's Chapter Challenge, contacted me in February to ask for permission for the CGOA to use my Love Hearts pattern as a way for their members to give back to their communities, I never dreamt it would lead to such an amazing result!
Let's hear from Nancy:
---
The Crochet Guild of America (CGOA) is a national organization of local crochet guilds located in almost all 50 states of USA. CGOA also hosts a national conference called Chain Link held in different locations each summer that includes classes of various skills, stitches, and techniques, a Design Contest, a fashion show and banquet, and a 'Meet and Greet' to possibly sell your designs to publishers, yarn companies and/or magazines. There is also a Masters Program which tests your skills in all aspects of crochet from stitches to gauge to finishing techniques. Be brave! Check it out!
Each year, CGOA challenges the chapters to give back to their local communities by participating in the CGOA Chapter Challenge which selects a project for all interested chapters to make.
Each project is selected with a particular need in mind. Past years have included chemo hats, preemie blankets, squares for afghans, and scarves. This year was a bit different since a lot of places were not accepting physical items due to COVID-19 protocols. But June Gilbank of Planet June came to our rescue by allowing us to use her Love Hearts pattern for the Challenge.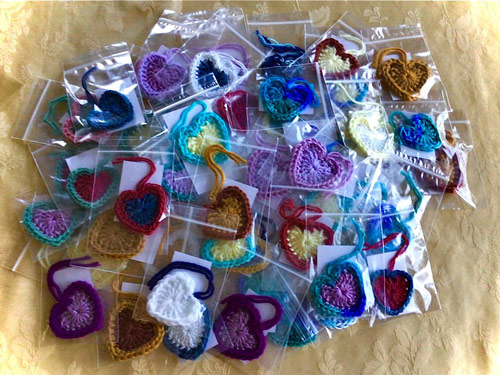 The hearts could be distributed as a group project if there were places near each chapter that were accepting items, along with individual members passing them out to total strangers, family, friends, neighbors, hospitals workers, doctor offices, fire houses, etc.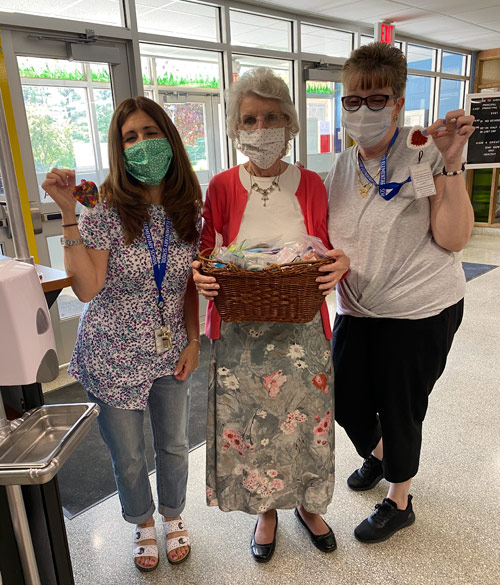 At first, members were kind of skeptical about the project, but some that handed the hearts out individually reported the results/reactions back to their chapters, and the interest really took off. The smiles and reactions from the recipients were well worth the work!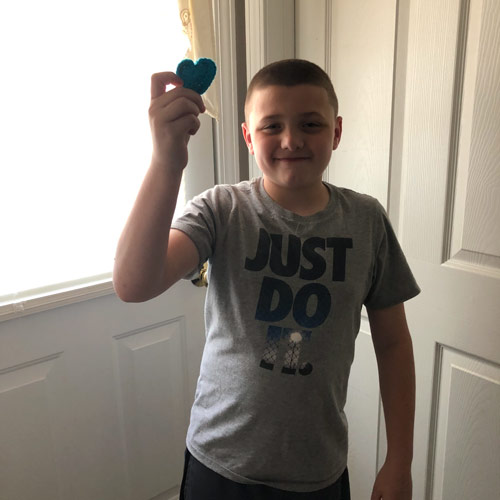 There were 12,798 hearts made for this Challenge! Besides being individually handed out, hearts were disbursed to an entire elementary school, to Meals on Wheels, to assisted living centers, nursing homes, animal shelters, special education centers, teachers for Teacher Appreciation Day, church meetings, and being attached to future donation projects each chapter makes.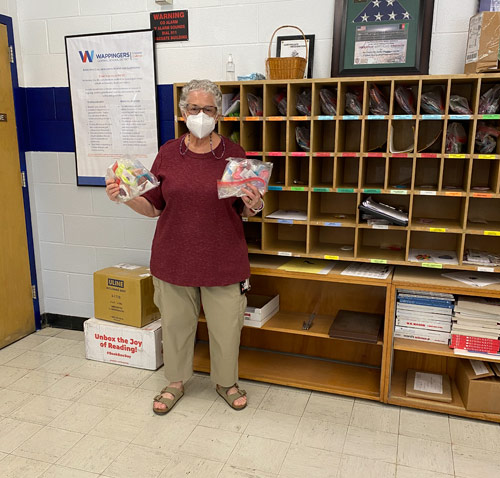 June's pattern was fast and easy to make, and the chapters were told to use whatever yarns and hook sizes they wanted, which created a variety of sizes and colors besides the three sizes June has in the pattern.
CGOA and its' chapters send a big THANK YOU to June for so generously allowing us to use her pattern!
For more information about CGOA, and possibly starting your own local chapter, here are the links:
Nancy Smith
CGOA Chapter Challenge Chairman
---
A few more photos, shared with permission from the participating chapters: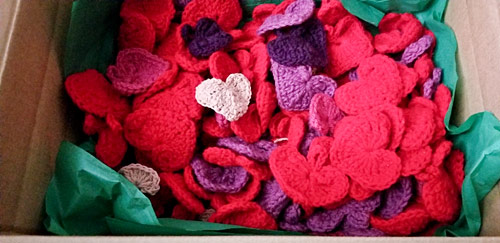 New York City Crochet Guild, Manhattan NY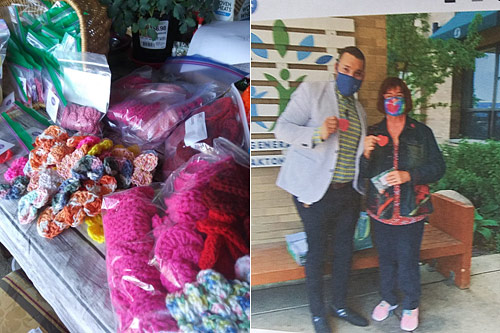 Northern Illinois Crochet Guild, Rolling Meadows (a suburb of Chicago) IL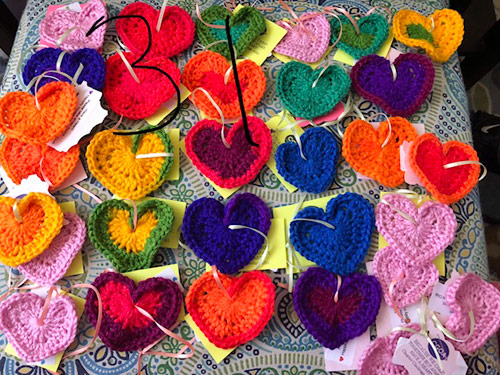 Happily Hooked on Crochet Guild, Danbury CT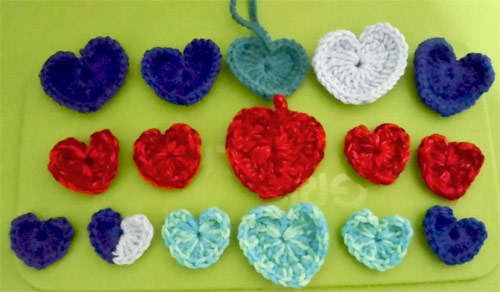 The Happy Hookers, Atlanta GA

Northern Kentucky Crochet Guild, Burlington KY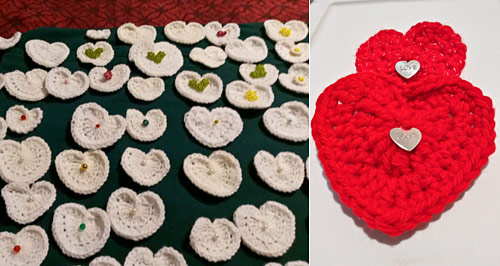 Ebenezer Angelic Crocheters, Washington DC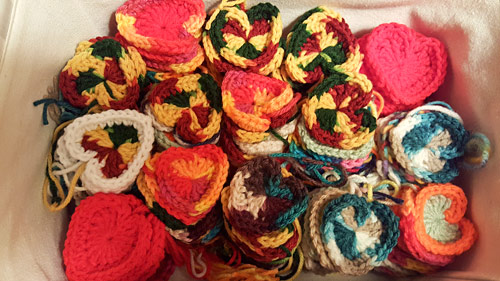 Crocheters of the Lakes, Lake County IL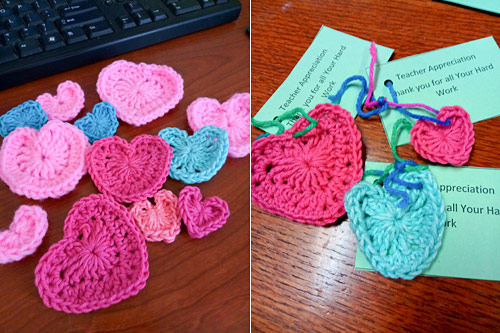 New Mexico Crochet Guild, Albuquerque NM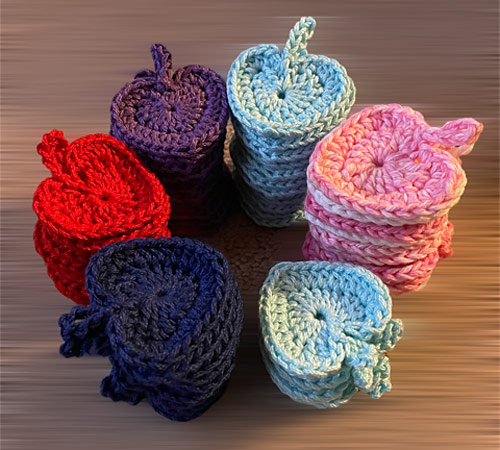 Crochet Twin Cities, Minneapolis/St Paul MN
And here's the video of the Challenge results:

---
(Back to me, June, again!)
Well over twelve thousand crocheted hearts – isn't that incredible! Congratulations to all the participating CGOA chapters – your generosity and kindness has touched so many deserving people. I'm honoured that my Love Hearts pattern continues to be used in such meaningful ways.
Thank you so much, Nancy, for sharing your report – and for choosing to use my pattern for such a successful Chapter Challenge 🙂
Please leave Nancy and the CGOA members a comment if you've enjoyed this post!
Do you have a PlanetJune Story you'd like to share? I'd love to hear it! Please email your story to june@planetjune.com, together with one or more high quality photos showing what you've made from PlanetJune patterns. If I choose your story to feature here on the blog, I'll send you your choice of pattern from my shop to say thank you!
---
PS – If you're feeling inspired to bring some smiles to your community with crocheted hearts, you can find my Love Hearts crochet pattern here. 🙂