I have two new Fall-themed patterns to launch today: my new Mushroom Collection, and an Expansion Pack so you can crochet even more types of mushrooms!
Mushroom Collection crochet pattern
The Mushroom Collection includes 6 different realistic mushroom designs (3 domed and 3 flat, each in small, medium and large sizes). All the mushrooms in this collection are perfectly shaped, with gills hidden under the caps and a crisp colour change between cap and gills. They all use the same techniques, so once you've learnt them with your first mushroom, you'll be able to whip up more in no time!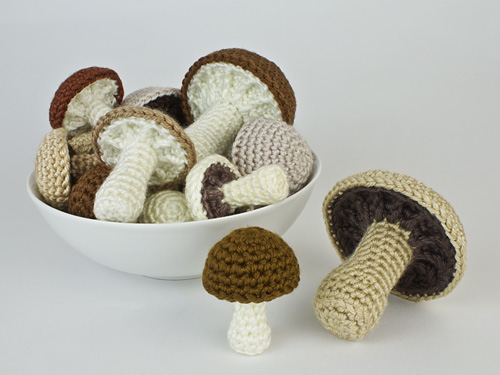 Choose the shapes and sizes you prefer, or create a mixed arrangement in a variety of shades of white and brown. Pile them in a bowl, arrange them on a window ledge, or add them to a seasonal centrepiece or wreath.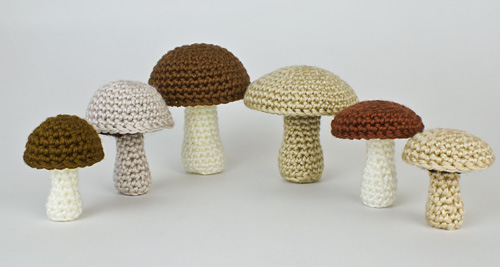 I've shown my mushrooms with either a dark cap and pale base, or a neutral cap and stem with dark gills, but you could also make a single-coloured mushroom, or one with different colours for the cap, gills and stem, giving 4 different colour options for each style of mushroom.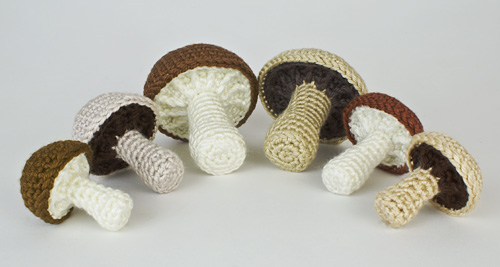 The mushrooms don't use much yarn (15-35m each, depending on size/style) and look good in all sorts of colours, so they make great stashbusters! And you can stick with my neutral shades or get more whimsical with brightly-coloured caps – it's completely up to you.
Mushroom Variations Expansion Pack
This Expansion Pack includes all the modifications required to crochet each of the mushrooms in the Mushroom Collection with any/all of these variations: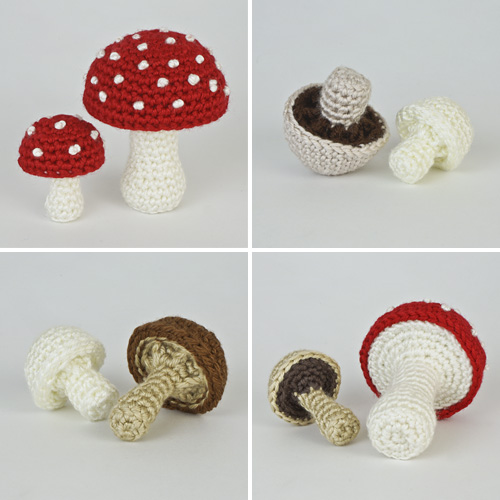 Red and White (top left): This colour scheme makes beautiful decorative mushrooms (perfect for Christmas!)
Short Stem (top right): Especially good for play food – these mushrooms look good enough to eat.
No-Sew (bottom left): A speedy crocheted alternative to the standard needle-stitched finish.
No Gills (bottom right): A quick and easy option – great if you want to whip up a large batch of mushrooms in a hurry.
What is an Expansion Pack?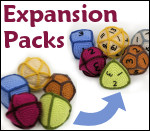 An Expansion Pack is an add-on to an existing PlanetJune pattern.
The Expansion Pack lets you modify or add to the original pattern to create something else.
You cannot use the Expansion Pack alone – you must also purchase the original pattern in order to be able to complete the pictured items in the Expansion Pack pattern.
You can pick and choose to apply any or all of the modifications to any of the six mushroom sizes and styles from the Mushroom Collection, making 96 distinct mushroom possibilities (or 384 if you include the different colour options!)
All the variations (apart from the Red and White) make the mushrooms faster to crochet/assemble.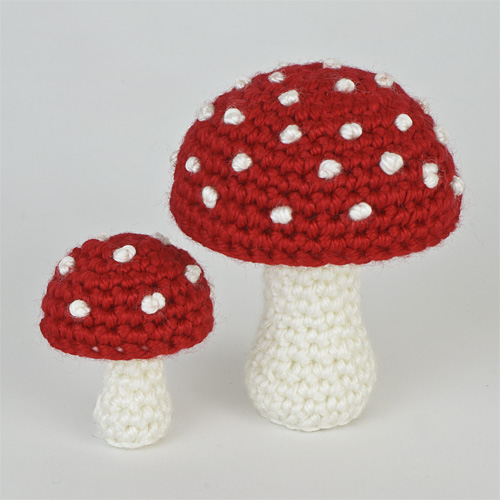 The spots on the Red and White mushroom obviously take a little more time (especially for the large one!), but the result is so cute, and they'd make gorgeous Christmas decorations as well as Fall decor, so you can repurpose them and keep them on display for months 😉
Fall CAL
We'd love to see the mushrooms you're making in the PlanetJune group on Ravelry – you can make mushrooms galore (or any other fall-themed PlanetJune designs) as part of the current crochet-along. The CAL runs through till the end of November, so there's time to crochet a whole variety of different mushrooms…
I hope you'll join us – I can't wait to see all the combinations that sprout up!
Links to Buy & Launch Discount
As with all my Expansion Packs, you can buy the patterns separately (although please note that you do need the base Mushroom Collection pattern to be able to make any of the Mushroom Variations), or there's a discount when you buy both together.
But to sweeten this deal even more and give you an incentive to join the CAL right away, I'm offering an additional discount on the Multipack Set (Mushroom Collection & Variations) if you buy within the next 7 days, so you can get endless mushroom options for only $7.00!
So, here are your options:
Or, if you're not ready to buy yet, click through to Ravelry and favourite/queue them so you won't forget about them!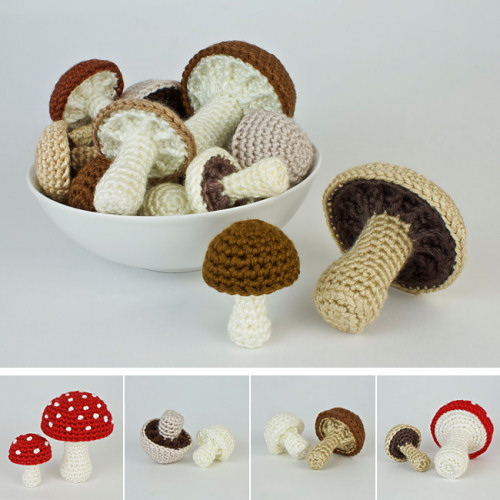 I didn't think I'd ever be tempted to call mushrooms gorgeous, but these designs look so decorative, I think I might change my mind on that front: they're both realistic and stylised, and the more you make, the better they look together…
What do you think? I hope you'll have as much fun choosing colours and crocheting mushrooms as I did while designing them 🙂