I've just finished upgrading the PlanetJune shop with some helpful new features that I think you'll enjoy, as well as a host of small functional and cosmetic updates to make the shop easier to use and bring the graphics in line with the rest of the site.
I'm really excited about the new features I've built, so let's have a look at them now…
---
Save for Later
This first feature will be useful for everyone – I've added a 'save for later' option in the shopping cart. I'm sure you'll already be familiar with this functionality from your Amazon account – the saved items appear below the items already in your cart, so you can check out without having to delete the items you aren't ready to buy today. You can move items between the cart and the Saved for Later section with just one click/tap.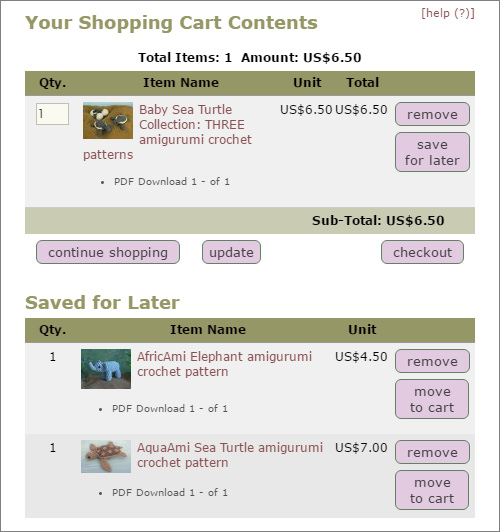 This feature replaces my old wishlist functionality, which was always slightly buggy – when you added an item with options to the wishlist, it sometimes neglected to save the options. To smooth the transition for you, I've imported all your items from your wishlist to your Saved for Later section of your shopping cart.
A couple of things to be aware of, regarding this transition:
I couldn't import any items that the wishlist hadn't stored correctly. So if you'd added a custom set (AmiDogs, Fuzzy Friends, or Accessories), it's probably not in your Saved for Later because your custom choices hadn't been saved. (This won't be a problem in future – yay!)
I started exporting the wishlist items at the end of July. I've also added all new wishlist items added since then, but, if you deleted anything from your wishlist after July 27th, it'll still be in your Saved for Later section.
Saved for Later can't tell if you've already bought an item, so there may be patterns there that you already own. (But my other new features will help you with that!)
---
The other new features are both available from My Account:

My Patterns
Go to My Account and choose My Patterns to see an alphabetical list of all the PlanetJune patterns you own. Whether you bought them individually, or in a multipack, you'll see the individual PDF names, so it's easy to see what you've bought, and click through to download the PDF from your order whenever you need to. (This is especially useful if you bought several custom sets – the old system didn't show you which patterns you'd chosen for each until you clicked into the order!)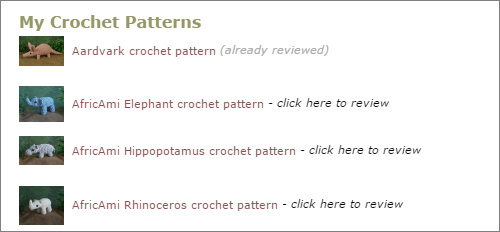 From this page, you can also see which of your patterns you've already reviewed, and click straight through to write a review for any of the others. (Useful if you'd like to get some more entries in my monthly Review & Win contest, but can't remember what you've already reviewed!)

This page is available in 2 versions: Full and Lite. The Full version is easy to browse because it includes a little photo of each pattern, but if you've bought a lot of patterns, all those thumbnails may take a while to load. So, I've also given you the option of the Lite text-only version, which loads in no time.
And now onto the last new feature:
Patterns I Don't Own
I love this new feature! It'll be especially useful to those of you who've bought lots of my patterns – with so many in my catalogue now, it can be hard to keep track of which you've bought, especially as you may have bought something in several different ways: individually; as part of a multipack; or as an optional add-on. The last thing I'd want to do is to make you accidentally buy the same pattern twice, so this list will take care of that.

If you're looking for a new PlanetJune pattern to buy, head straight to the Patterns I Don't Own list (in My Account) and you'll see an alphabetical list of all the patterns that aren't in your My Patterns list. Click any pattern name to go to its listing in the shop, so you can add it to your cart (or to your Saved for Later).
Again, this list is available in Full and Lite versions, so you can stick to text-only if you're on a slow internet connection or just want to check for a specific pattern, or enjoy browsing the photos in the Full version if you have a minute to wait for all the thumbnails to load!

---
These updates are the result of a month of development and hand-coding. Although I've tested everything extensively, there's always a chance that something on the live site may give an unexpected result. If you have any problems using the shop or your PlanetJune account, or see anything that looks remotely strange, please email me to let me know, so I can fix it!
I hope you'll find the new features helpful, and, while you may not notice all the other little changes and improvements, they should all combine to make the shop, and your PlanetJune account, easier to use from now on.