I have a gorgeous new addition to my Potted Plants range for you – a Christmas Cactus!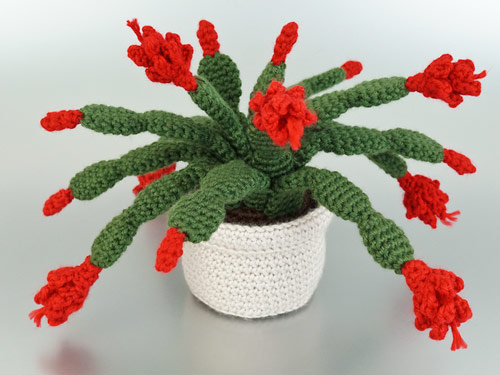 The Christmas Cactus is a popular houseplant also known as Zygocactus, Schlumbergera, and Thanksgiving Cactus. It has flat, segmented stems that resemble leaves, and beautiful bright flowers.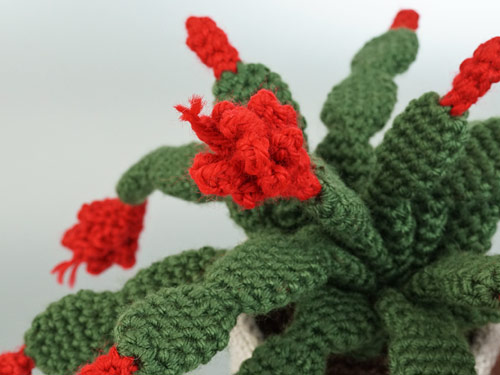 Christmas (or Thanksgiving) cacti are so named because they usually flower from November to February, but the crocheted variety can stay in bloom all year round! Choose pink, red, white, yellow, orange, or purple yarn for the flowers and buds.
A crocheted Christmas cactus would be perfect as a Thanksgiving or Christmas decoration or gift, or just to brighten the coming winter months…
My pattern includes detailed instructions so you can replicate my plant and pot exactly, or choose the number and length of stems and the number and arrangement of buds and flowers to make your own customized cactus!
Links to Buy & Launch Discount
Although I always offer discounts for shopping directly from PlanetJune, as it's my birthday today, I'm offering an additional 10% discount until the end of October. Just enter code BIRTHDAY at checkout by Tuesday, 31st October 2017, and the extra discount will be applied.
Buy the Christmas Cactus pattern here in my shop. Or, if you're not ready to buy just yet, please heart or queue it on Ravelry so you don't forget about it:
I hope you'll enjoy making this lovely plant for yourself, or as a stunning no-maintenance gift that's sure to be appreciated for its never-ending blooms 🙂