This is sweater #10 of my 'learn to knit by making a dozen self-designed sweaters' project. (Here are links to #1, #2, #3, #4, #5, #6, #7 #8 and #9, if you'd like to see my progress.)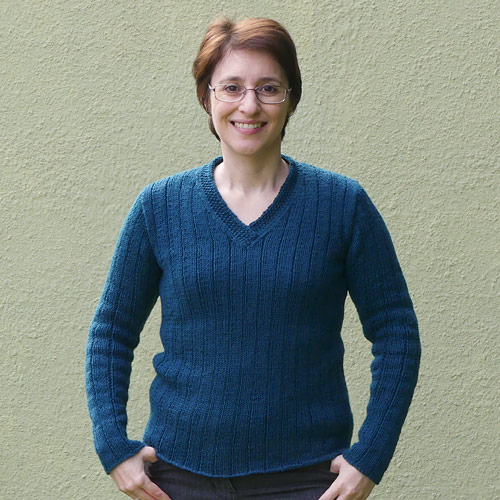 After the success of my most complex design yet, I thought I'd try something a bit simpler, and test out the quality of my notes from an earlier design that I've got a lot of use from: my green ribbed cardigan (#5).
I decided to make a pullover version, with just a couple of modifications: I added a couple of inches more length (the green one was slightly shorter than I'd have liked as I was working with the constraint of only having 4 balls of yarn!), adding a little more ease so the extra length wouldn't be too tight over my hips, and modifying the positions of the rib stripes so the side seams would continue the stitch pattern flawlessly.
Other than that, and making a pullover with a single front instead of two half-fronts for the cardigan, I followed my previous notes exactly. I used the same yarn in a different shade and assumed my gauge would be the same (it was!) instead of swatching again.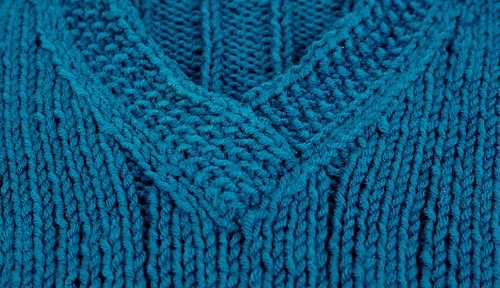 To make the neckband, I again followed the style of my cardigan's neckband. I overlapped the neckband at the point of the V instead of trying to make a mitred corner in pattern. Although it's a little bulkier this way, it looks neat, and I stitched down the excess fabric on the inside so it doesn't get in the way.
It's good to know I can follow my own notes if I want to remake any of these sweaters, and it was refreshing to work from a pattern (of sorts) and not have to make design decisions and size calculations at every step.
But now I only need 2 more sweaters to complete this project (wow – I'm so close now!) so no more laziness; for the next sweater it's time to tackle the one big design element I've never even tried to date: cables…