Last July, I posted about my plan to design one knitted and one crocheted cardigan for myself, just for fun: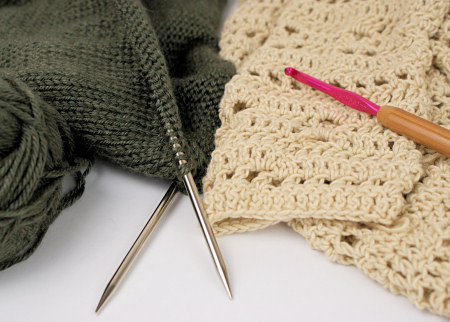 Although the crocheted cardigan took a fraction of the time of the knitted one to make, I actually completed the knitted one first – probably because it was Southern hemisphere winter, so knitting a warm cardigan was more appealing than weaving in lots of fiddly ends on a lacey crocheted cardigan! But now, finally, here's my finished crocheted cardigan: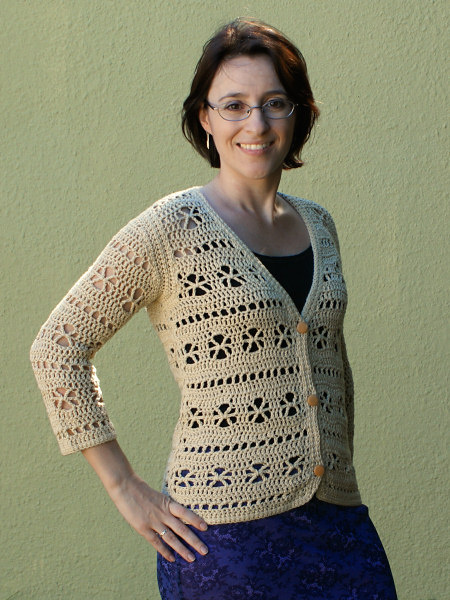 You may be thinking that the stitch pattern looks familiar, and you'd be right: I knew I wouldn't be publishing a pattern for this cardigan, but I liked this stitch pattern so much after I came up with it that I used the same stitch pattern in my Frosty Windows Scarf too – no point in keeping a good stitch pattern to myself when you can enjoy it too, in another format!
The story of this cardigan…
I had 3 skeins of deliciously smooth and soft LB Collection Cotton Bamboo yarn in my yarn stash since I chose it as my prize for winning the Instructables/Lion Brand Critter Contest in 2010. I intended to make a PlanetJune Accessories pattern of some sort from it and came up with a stitch pattern, but I hadn't come up with the perfect project idea.
I picked it up again a few months ago and decided to do something with it. I still liked the stitch pattern I'd designed and thought I'd try turning it into a light summery cardigan. I used a slightly larger hook than recommended so I'd have a nice drapey fabric. I didn't work out a formal pattern – I just measured some of my existing cardigans and crocheted pieces (two fronts and a back) in my stitch pattern that approximated those sizes. Knowing I didn't have to keep notes for a pattern to publish made it easy to fly through the crocheting!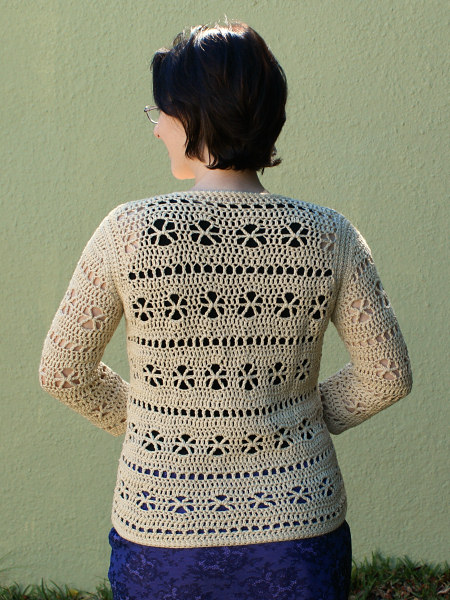 My first problem came when I realised I wouldn't have enough yarn to complete both sleeves and finish the garment – and obviously no way to get more from the US without great expense – so I had to rethink the design for 3/4 length sleeves. I'd worked the sleeves from the cuff up, and I was working both at once (crocheting one round of one sleeve, and repeating the same round on the other sleeve with a separate ball of yarn) so I'd make sure I'd end up with two sleeves that matched. Changing my design to 3/4 length sleeves meant frogging both sleeves entirely and starting again, as they were too fitted at the wrist to wear the original cuff higher up my arm.
And then my second problem: as I'd made the sleeves fairly close-fitting, the armholes I'd left in the body were far too large. That was easily fixed; I just crocheted an edging around both the sleeve tops and the armholes, decreasing as I went around the armholes until I had the same number of stitches in each piece. (An added bonus of this was that the seaming was ridiculously easy and tidy, as I had the same number of stitches on each side to begin with.)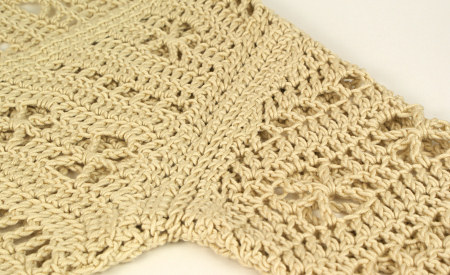 Shoulder seam
To tie it together, I used the same stitch for the body/sleeve linking stitches that I planned to use for the cardigan's edging. And then it was just a matter of edging the entire garment, adding space for buttons on one side and buttonholes on the other. I edged the cardigan using linked stitches (which I love – I'll make a video tutorial for them at some time!) to add some structure without stiffness, and I used foundation stitches to leave vertical buttonholes – easy and neat.
All that remained was to weave the ends in securely, block the cardigan, and sew on the buttons. I found the perfect buttons in a craft shop in Jersey while visiting my parents last July, but then I lost my momentum as it was winter here and not the right weather for this type of light cover-up. But now it's summer and this cardigan is just what I need! So weave, wash, block, sew, photograph, and here we are 🙂

I flipped the corner up to show you one of the wooden button (left) and one of the hidden anchor buttons on the inside (right)
I used my favourite technique of stitching each button with an unobtrusive anchor button on the inside, to avoid putting strain on the yarn. The finished cardigan is light, comfortable, and silky-soft – I'm already enjoying wearing it: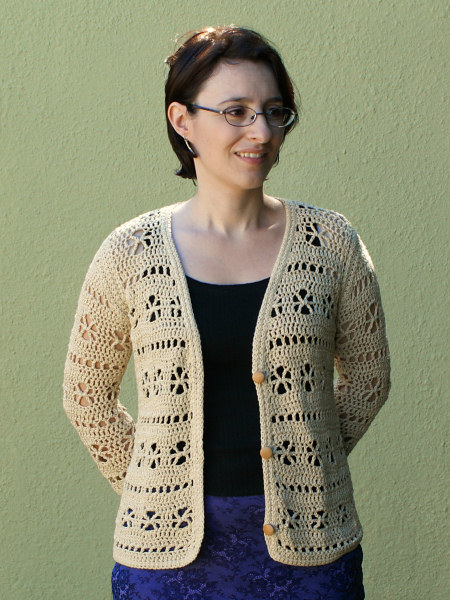 What's Next?
This project has convinced me that I really can make non-embarrassing wearable clothes for myself, so I really want to make more, but, with my hand problems, I need to save most of my crochet time for designs I can publish. For that reason, I'll probably be knitting more clothes than I crochet in future: knitting uses different motions, so I can knit and crochet for far longer than I could just crochet.
I'm really glad to have made a crocheted garment that isn't stiff, boxy or unflattering – I love crochet and I want to make it clear that, although you'll be seeing me make more knitted sweaters in future, I'll never abandon crochet in favour of knitting. If any knitting snobs think I'm knitting clothes because knitting is superior to crochet, I'll be able to point to this cardigan as evidence to the contrary!