This post isn't PlanetJune-related but I do love a bargain and I've found some crafty deals you might like too, so I wanted to share them! If you're waiting for a crochet post, I'll have a brand new pattern collection to reveal, next week…
MOO card winners and discount codes
Thanks to everyone who entered my MOO giveaway! I wish you could all win – it was great to hear about your small businesses, crafty ventures and good ideas that could benefit from some MOO cards.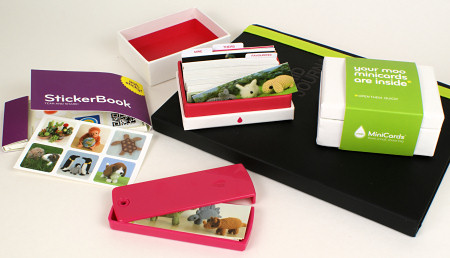 But there can only be 3 winners, and random.org tells me they are Kati, Diana Mullins-Atkinson, and Katie. Congratulations to you all!
I'll email you to notify you of this too, but I'll be passing your names and email addresses along to Dan at MOO and he'll contact you to arrange your prize – your choice of 50 Classic Business Cards or 100 MiniCards 🙂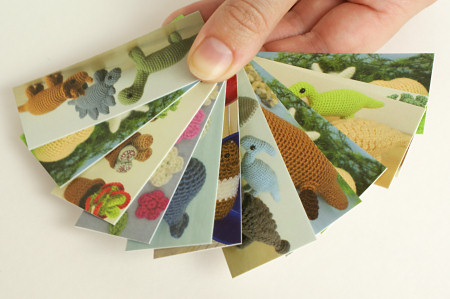 Now, if you didn't win, but thinking about what you'd do with your MOO cards has got you all excited, I have another offer for you! With my order, I received 5 discount codes each worth 15% off your first order at MOO, and I'd like to share them with people who can make use of them. Here's what I have:
3x 15% off your entire order
1x 15% off any 1 product (the cheapest, if you order more than one item)
1x 15% off 1 pack of MiniCards
As I don't know how many people may want them, and people read my blog at different times of day, I think the fairest thing would be to give you a 24-hour window to let me know if you want a code.
If you haven't ordered from MOO before and would like to now, please leave a comment below to let me know. (If you could also say if you'd be happy with any of the codes or you need one in particular, I'll try to match the winners with their requests so the codes will do the most good!)
If there are more than 5 requests, 24 hours from now, I'll randomly draw 5 to get the codes.
If there are less than 5 requests in 24 hours, I'll keep this offer going until I've received 5 requests and given out all the codes!
UPDATE 27 Jan: All the codes have now been claimed! I'm glad they've found good homes. Chrisie, Aimee, Amanda W, milla1222, Karina – I'll email your codes to you tomorrow. Hope you enjoy your discounted MOO orders 🙂
Try Zinio for free
I must confess I'm quite addicted to Zinio now – it's made buying magazines so easy that I've bought digital subscriptions to crochet magazines, and also to some knitting titles (for clothing inspiration and techniques), and Ideas magazine (for some local South African crafty flavour). It also makes it really easy to pick up a one-off back issue of a magazine that has a pattern or article you want, which is very handy!
Anyway, I found an amazing offer to try $50 of Zinio managzines for free – you have to activate it by January 31st, so hurry and get on it if you'd like to take advantage of this deal too! There's a wide selection of magazines to choose from and, although there aren't any crochet mags included, there are two knitting titles and a nice selection of other crafty magazines, as well as food, home, lifestyle, computers, photography, music, sports, etc etc.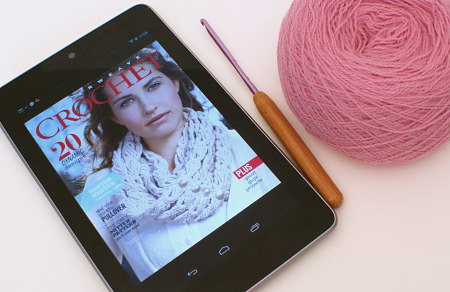 Here's what you need to do:
Click here and then click 'Claim Coupon' to get started.
Once you get your code, copy and paste it somewhere safe (so you can log back in again later and choose more magazines).
Login here to redeem your voucher.
Don't worry if nothing happens when you've selected your magazines – you'll be emailed the links in a couple of days. I've tried it and it does work; it just takes a while!
Now, here's how I made the deal even better for myself. You don't have to order all 18 magazines at once, and you have 90 days to redeem them. So:
Keep a note of your voucher code – you'll need it to log back in later.
Select single issues, not subscription, to get the latest issue and be able to choose 18 different magazines.
Some magazines only have a 1-issue subscription available, but if you log back into the redemption page in a month (or whenever the next issue comes out), you'll be able to get the next issue of the same magazine free too! A handy tip: you'll receive whichever issue has its cover pictured on the page at the time you redeem your voucher.
I hope you enjoy these deals. Don't forget to leave a comment requesting a MOO code, if you'd like one!