Review: e-magazines
I've only bought 2 or 3 crochet magazines over the past few years; to me they are expensive to buy, hard to find, and awkward to store. Now I know about digital magazines, though, I've changed my mind. I can read the latest magazines on my tablet and PC without the problem of storing years of back issues or having to throw out old issues to make room for new ones. Availability is a huge plus too: you can buy e-magazines from anywhere in the world for the same price, whereas finding the printed magazines outside North America is difficult and expensive, and you can download the latest issues as soon as they are released.
I hadn't even heard of Zinio, a digital magazine provider, until they offered me some subscriptions to give away last month. My concern about e-magazines was that my magazines may be tied to one device, but, I can log into my Zinio account from all my devices (I have a desktop PC, laptop and Nexus 7 tablet) and download my subscriptions to any/all of them at no additional cost. That also means if I lose or replace a device, I won't have lost my magazines, as they'll all still be available from my account.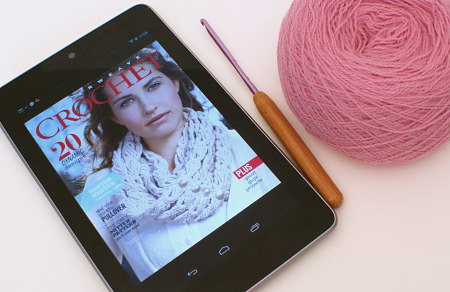 Now I can enjoy an e-mag while I crochet
I've really been enjoying the subscriptions Zinio gave me, and I wanted to let you know that, if you didn't win my contest (or even if you did!), today (January 7th) is the last day to take advantage of their holiday sale. These are such great deals I couldn't resist, so I just treated myself to another year's subscription each of Crochet Today! and Interweave Crochet – only $10 for a whole year of one of these crochet magazines is a real bargain:
Update: As of today (Jan 14), Crochet Today! is still only $10 for an annual subscription 🙂
If you're interested, click on the magazine cover photos above, and they'll take you straight through so you can buy a subscription at Zinio. These are affiliate links, so I'll make a few cents from your purchase, but this is a genuine recommendation – $10 for a year of each of these magazines seems like too good a deal to pass up, and I didn't want you to miss out if you'd like to take advantage before this crazy sale ends today!
Pet-Along CAL
The January crochet-along is going well: we're making pet animals this month, and we already have amigurumi dogs, hamsters, bunnies, an alpaca, and a gecko entered! Most of the pattern options are below – they're all available from my shop except the Hamsters, which you'll find in my book.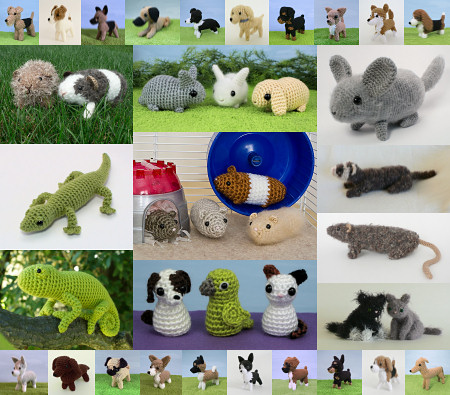 You can find the CAL details, and a bonus CAL discount on the PocketAmi Pets pattern, in the PlanetJune Ravelry group…
 
Review and Win contest
December's 'Review and Win' winner is Nicole D, with her review of my Fuzzy Guinea Pig: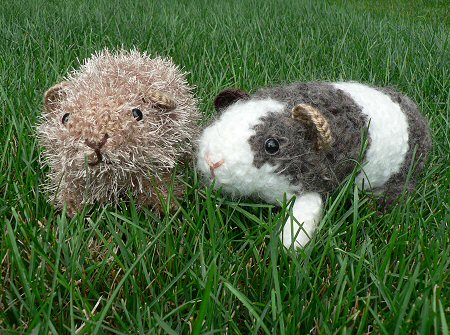 Perfection! A true embodiment of a guinea pig. Your little guy will come to life under your fingers, his shape forming readily with each stitch. He has bumps in all the right places and the loveable guinea bottom all owners come to adore.

I made one of these for my sister in law after her guinea pig passed and he elicited a squeal of excitement, a cuddle and easily an hour laminating on how lifelike he looks.

June's pattern is remarkably easy to follow and contains everything you need to know to craft yourself a new friend.
Congrats Nicole – I'll email you to find out which pattern you'd like as your prize 🙂