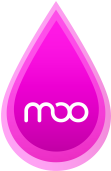 Note: Don't miss the giveaway at the end of this post!
You've probably heard of MOO before – the company that turns your Flickr images into mini business cards – but they now offer a lot more: full size business cards, greeting cards and postcards, stickers and labels, and more. And you don't need a Flickr account to use them – you can upload your photos directly to MOO.
MOO asked me if I'd like to test out their service, and I was happy to oblige – I'd wanted to order some minicards anyway, but had no idea that they'd be able to ship to me in South Africa! It turns out that MOO have two websites (US and UK) but they ship worldwide from both those locations (if you're international, compare shipping prices to your country from each site before you order, to get the best deal).
My Experience
I decided the most useful products for me would be lots of PlanetJune MiniCards and StickerBooks. (I also ordered a high quality dot grid notebook, because I love large notebooks when I'm designing, and the grid of dots makes it easy for me to draw crochet stitch patterns, write without sloping down the page, and sketch without lines getting in the way.)
The process for creating any size of cards or stickers is really simple – just browse your computer for some suitable photos, and upload them. The unique thing about MOO's service is that you don't need to have the same image on each of your cards: for no extra cost, you can upload as many images as you want, to the point where every card in your pack can have a different photo, if you want! (You can also use MOO's design templates if you don't want to start from scratch with your card design.)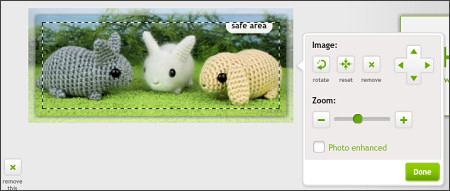 Once you've uploaded your images, you can resize and crop each one to fill the frame nicely before approving the project. You can also delete any images that don't look good, add extra pics, or save your project to edit later. A little tip: If you have several designs uploaded to one pack of cards/stickers, you'll receive an equal number of each design. As my Baby Bunnies photo is so perfect for the MiniCard size and shape, I added that same photo several times, so I'd end up with lots of bunny cards and a few of each of my other choices.
Here's what arrived: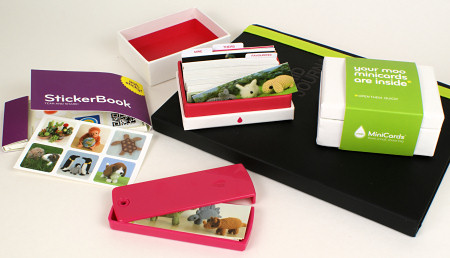 Lots of pretties! Let's look at the MiniCards first: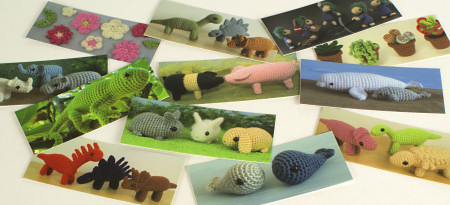 They look great: bright and colourful, and the photos are crisp and high-res. MiniCards are the same width as a standard business card, but half the height. Each card is printed in full colour on both sides of the high quality cardstock, so, for the first time ever, I have my logo and colour printing on the back of my business cards: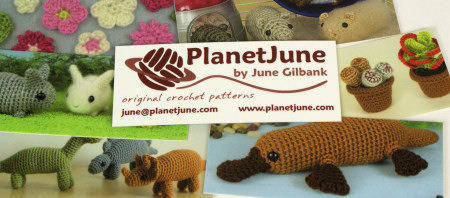 I want to address price before I move on. Although MOO's prices may not look competitive compared with cheaper services like Vistaprint which I've used in the past, there are no hidden extras with MOO. When I used Vistaprint, by the time I'd added the glossy upgrade fee, the image upload fee, and the print on reverse side fee, the cards ended up being many times more expensive than they initially appeared to be, and only worked out to be cost-effective if I bulk-ordered 500 or 1000 cards at a time. And looking at both cards together, the print quality is much better on the MOO cards: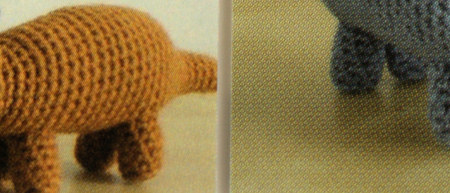 MOO (left) vs Vistaprint (right). Any fuzziness is from the extreme close-up, but you can see the clear grain pattern visible on the VP cards only.
Okay, now back to my order! I put together the most adorable StickerBooks: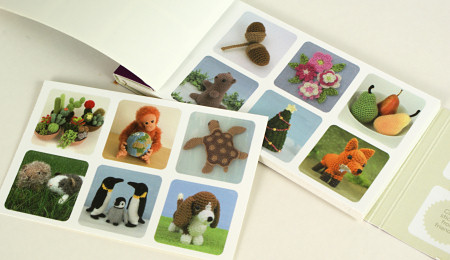 Each sticker is just under an inch (22mm) in size. The stickers have rounded edges and look completely professional. My only problem with them is that they look so cute as a sticker collection, I'm going to have a hard time using any of the stickers!
As you can see from my earlier photo, MiniCards come packaged in a very nice classy white cardboard box, but as they are an unusual shape, I also bought a MiniCard holder to keep my cards looking pristine when I'm out and about: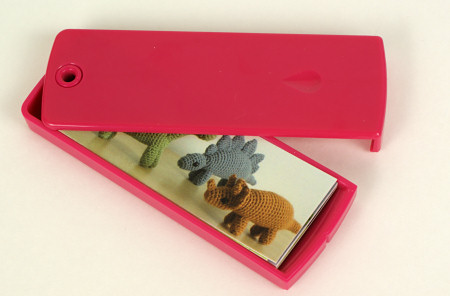 I chose this hot pink shade so I'll quickly be able to find it in my bag when needed, but you can also get sensible black and white versions. And this is, for me, the genius part of MOO cards. Now when I meet someone and they ask what I do, I can whip out my pink card holder and say "I design the patterns for these":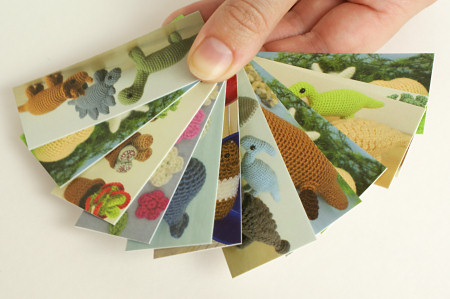 Pick a card; any card…
I've already tried it and it's a great icebreaker – nobody can resist taking the cards and looking through them all. Then I can casually say "keep your favourite, if you like" and they look thrilled as they try to choose the one they like best. The result is that I've handed out my business card (and my details are on the back, so I may get a new customer as a result), but my new friend feels like they've been given a gift instead of having contact details forced on them. Win-win 🙂
Giveaway Time!
MOO have very generously offered to give three PlanetJune readers their choice of either 50 Classic Business Cards or 100 MiniCards. (Classic Business Cards are exactly the same as MiniCards in terms of quality etc; the only difference is that they're standard business card size).
The prizes includes standard worldwide shipping, so this contest is open to everyone – yay!
To enter:
Just leave a comment on this post saying what you'd use your MOO cards for if you win!
One entry per person, please.
Make sure the email address you leave with your comment is valid, so I can contact you if you win (don't worry, that field is private, so only I will see it).
You may enter until 6pm (EST) 11.59pm (PST) on Tuesday January 22nd 2013. I'll draw the 3 random winners from all the entries after that time.
Good luck!
UPDATE 24 Jan: Thanks to everyone who entered! Just to keep you in the loop, I'll be drawing the winners in the next few days (when I have time to set up the random drawing) and I'll update this post with the winners' names once I've done that 🙂