I suffer from hand pains similar to arthritis, especially when I overuse my hands with too much crochet, typing, driving, etc. A few years ago, I saw some hand specialists and was given various support devices to help minimise the pain and help my recovery. The biggest problem is at the base of my thumbs (the 'basal joint', according to the hand specialist I saw), and, over the years, I've discovered that what helps most is the warmth and compression provided by a stretchy fitted glove that supports my thumb.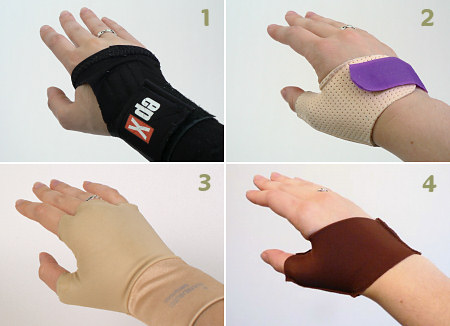 Wrist support prescribed by specialist (good for wrist pains, but it does nothing for my thumb).
Custom-made rigid thumb support to immobilise my thumb joint (I only wear it at night now, as I can't do anything with my hand while wearing it).
Handeze therapeutic support gloves are quite helpful, but the side seams dig into my hands, so I have to wear them inside out. I also find the fabric between my fingers slightly annoying.
My first prototype sewn thumb-support glove.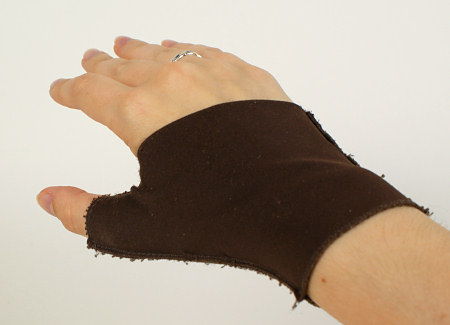 My well-worn thumb-support glove.
After trying all sorts of options, I developed the fingerless support gloves pictured above, sewn from stretch fabric (with the seams on the outside so they don't dig into my hands). I've worn them for years whenever I feel the need, and, as you can see, they now look a little worse for wear!
I need to make some more, but, in the meantime, I found some stretchy sock-type yarn (Elle Stretch) and wondered if I could use that to crochet some gloves that may look a little more respectable to wear in public, help support my hands with warmth and compression, and still be flexible and unobtrusive enough to let me crochet, type, etc without hindrance. I decided to make these gloves a little longer than the fabric gloves, to keep my knuckles and wrists warm and supported too. And here's the result: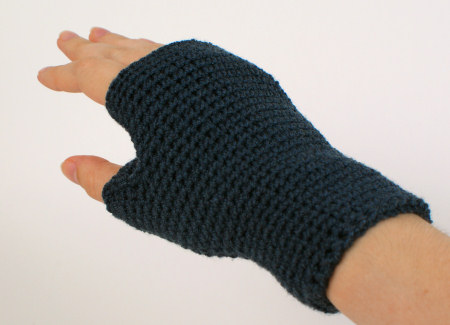 I approached this project just like I would the shaping for an amigurumi: single crochet in a spiral, with (invisible) increases and decreases for shaping, to match the shape of my hand exactly. To save breaking the yarn, I surface crocheted down the finished thumb to get back to the hand and continue the main part of the glove. To keep it stretchy, I used foundation single crochet in place of chains for the foundation and the thumb gusset.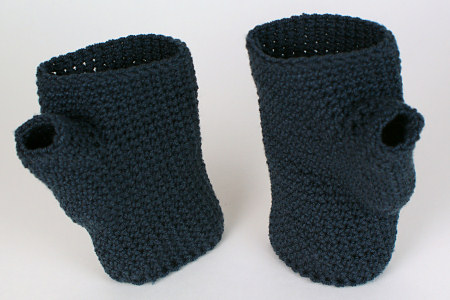 You can see that the shape conforms to my hand so well that the gloves are still hand-shaped even when I'm not wearing them! Although, from the above photo, they may look rigid and uncomfortable, the stretch in the yarn means they have plenty of give and I can easily move my hands into any position (see the photo below), so they're fine to wear while typing and crafting. I'm actually wearing them now, as I type this post 🙂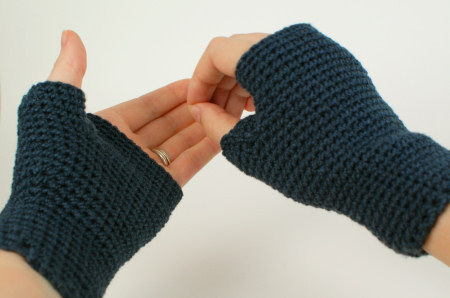 Please don't ask for a pattern – as this is a very fitted glove, I shaped it to fit my hands perfectly. There are so many factors to consider: gauge, the stretchiness of the yarn, and the size/shape of your hand; creating a pattern that would work for all hand sizes would be more work than I could justify.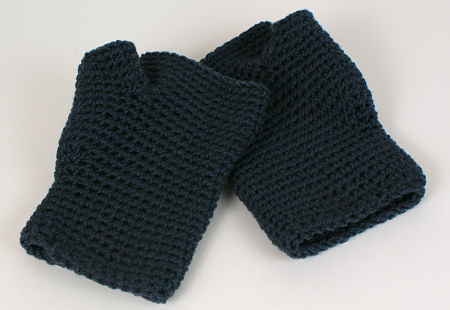 Isn't it interesting to see how my amigurumi-shaping skills can be translated into making functional items, as well as decorative ones? I wonder what other useful objects I could crochet…