Thanks to my Commissions system, it's time to launch my 21st dog crochet pattern, AmiDogs Scottish Terrier: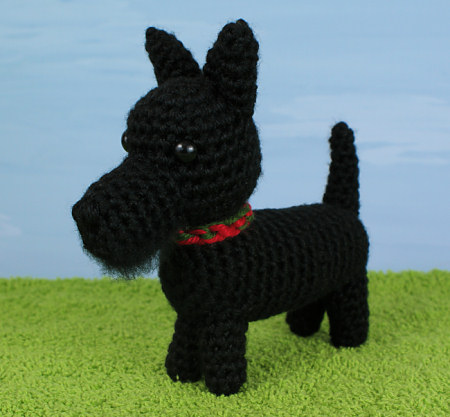 Queue or favourite Scottie on Ravelry:
My Scottie Dog completes Set 7 of the AmiDogs, for what it's worth – I mostly just make the sets now for my Etsy shop, as almost everyone takes advantage of the mix-and-match Custom Set for the same price in my shop. But, if you've been waiting for AmiDogs Set 7, here's the group shot of #19 Basset Hound, #20 Rottweiler, and #21 Scottish Terrier: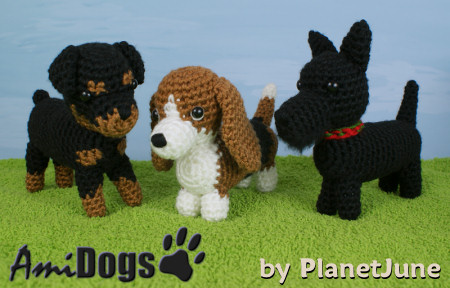 I made my Scottie's collar in red and green to hint at a Scottish tartan, but I don't know if that comes through on such a small scale! Either way, it adds a nice splash of colour to an all-black dog with black eyes and a black nose…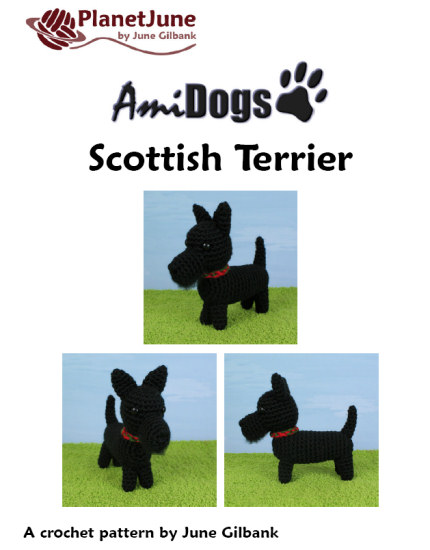 Here are the other 20 AmiDogs breeds:






















Don't forget to download the re-released patterns of any of these you've already purchased! The new layout saves 1-2 pages on average, and the updated patterns include details like finished size info and US/UK conversions; they print equally well on letter- or A4-sized paper, and they've been updated with extra information and tips. Just log back into your PlanetJune account to re-download the new versions of your patterns. (If you originally ordered through Etsy or similar, see yesterday's re-release announcement for how to get the new versions.)
After the epic task of re-editing and re-formatting all my prior dog designs, plus creating the new Scottie, I feel a bit dogged-out now – I definitely need a break before I design any more AmiDogs! You can still commission new designs though, if your favourite dogs are missing from my collection – I have 4 fully pledged commissions in the queue, so, even if another new design was commissioned today, it'd be months before I get to it.
If you know someone who loves Scotties or has a Scottish connection, you can pick up the AmiDogs Scottish Terrier pattern in the shop right now. Or, if you'd like to add several dogs to your pattern collection, I recommend my AmiDogs Custom Set – you can choose any 3 dog breeds for a bargain price. And you'll get the AmiDogs Collar pattern as a free bonus with any AmiDogs purchase 🙂
Thanks to everyone who commissioned me to make this design – if you haven't already, you can log into your PlanetJune account to download your pattern! Next up on the commissions list: the Killer Whale (Orca) – I'll be collecting pledge monies on Monday for that one, and then I can start figuring out those lovely black and white markings…