It's here! My final commissioned pattern, Farmyard Goats, is now available to purchase!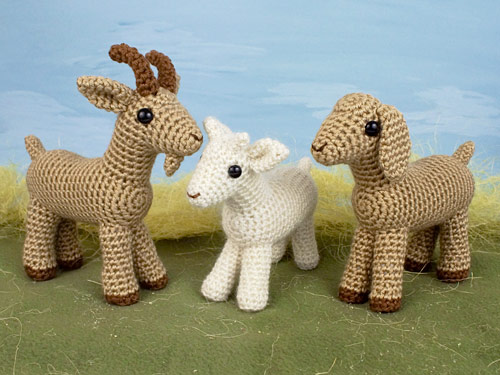 Farmyard Goats is a mix-and-match pattern that lets you choose the options you want, to make many different types of goat:
Ears – floppy, upright, or none?
Horns – long and curved, shorter, tiny nubs, or none?
Beard, or no beard?
Contrast-coloured horns and hooves, or not?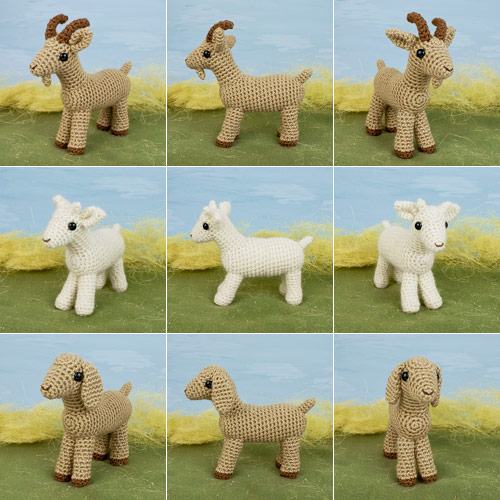 You choose! Make any of my three pictured options in any colour(s), or assemble your own custom goat from all the included options – it's up to you. 
Fun Fact: It can sometimes be tricky to tell a sheep from a goat, especially as some breeds of sheep are smooth-coated, and some goats are fluffy. Here's the trick: if the tail points up, it's a goat! Sheep tails always point downwards.
Meet the Goats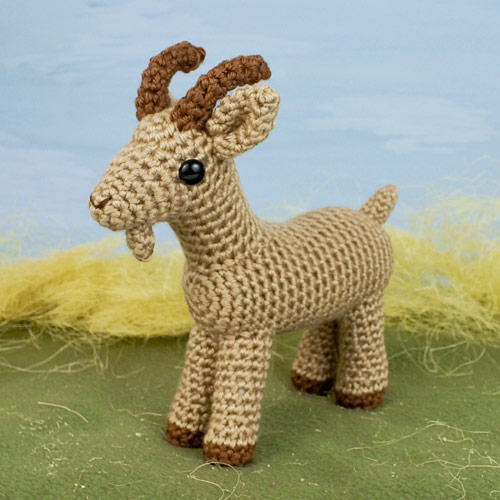 My billy goat has upright ears, long horns, and a beard.
I invented a fun new technique to make the curved horns – it's almost magical how it works, and yet it's super-simple to achieve! I think you'll enjoy it 🙂
To me, this is the definitive goat, but I know that's not the case for many people, so I decided to include other options in the pattern, so you can make lots of different goats…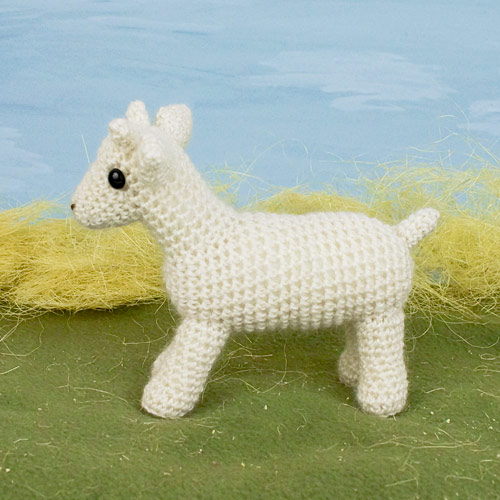 My little kid goat has upright ears, short horn nubs, and no beard.
He's a bit smaller than the other goats because, although I used the same pattern and hook size, I used mohair [goat!] blend yarn that was slightly finer than the worsted weight yarn recommended for the pattern, and 9mm eyes.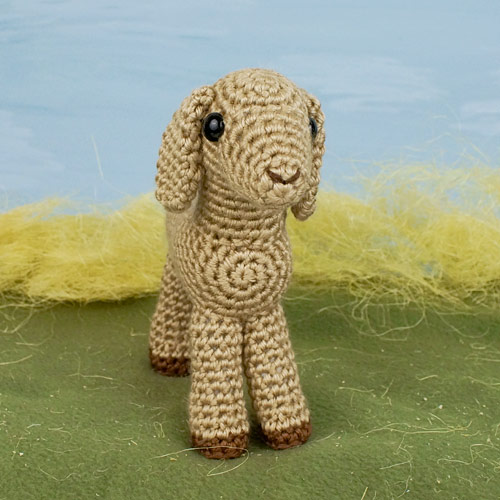 My Nubian goat has floppy ears, no horns, and no beard.
But, of course, you can make a Nubian with any length horns and/or a beard, just by mixing and matching the pattern elements – this is a very versatile pattern 🙂
Ready to Crochet?
If you were one of the commissioners of this pattern, or had early access through the crochet-along, I hope you've been enjoying the pattern over the past few weeks!
If you've been waiting for the goat pattern, you can pick it up from my shop right now – and then join our Farmyard CAL in the PlanetJune Ravelry group 🙂
Or, if you're not ready to buy just yet, please add my Farmyard Goats to your queue or favourites on Ravelry, so you don't forget about it:
I hope you'll enjoy my Farmyard Goats pattern! Which type of goat is your favourite?