Today I have a new PlanetJune Accessories donationware pattern for you: the Leaning Ladders Scarf.
This beginner-friendly scarf is made of only basic stitches, so it's fast and fun to crochet. The eye-catching diagonal eyelet stripes look great in any yarn, and the simple background highlights the colours in a variegated or self-striping yarn beautifully. Choose your recipient's favourite colour and you have a perfect gift for anyone in your life – women, men, or children!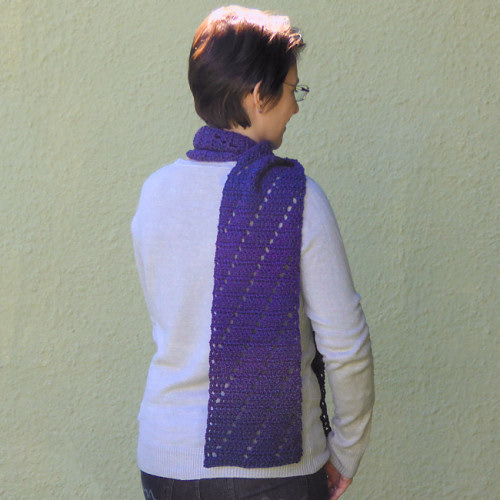 Work it in any weight yarn – although I'd recommend DK weight (#3 light) or heavier for a snuggly scarf – with an appropriately sized hook. As with all my accessory patterns, this pattern has both written instructions and a full stitch diagram!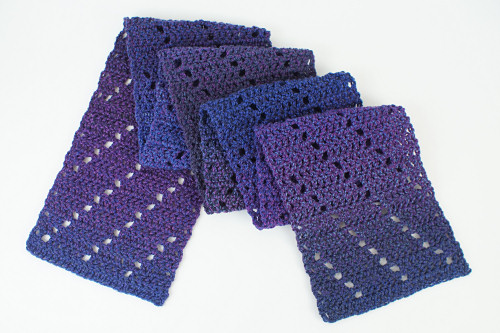 As always with my donationware, the Leaning Ladders Scarf pattern is free for your use, but if you'd like to send me a donation towards it (completely optional), you'll receive the nicely formatted and easy-to-print PDF version of the pattern as a thank you. PDF-only bonuses:
The PDF also includes the full written pattern for an any-size piece using this stitch pattern, so you can crochet anything from a skinny scarf up to a large rectangular shawl or blanket. 
The PDF is neatly formatted with one section per page (standard written pattern; stitch diagram with key; any-size pattern) so you can print just the page(s) you need.
I hope you'll enjoy crocheting this scarf for yourself, and maybe you'll make a few extras as Christmas gifts for friends and family?
Go to Leaning Ladders Scarf pattern >>
More PlanetJune Accessories
I've just realised that Leaning Ladders is the 25th design in my PlanetJune Accessories range – wow!
If you like my accessory designs, you can also choose from lots more donationware patterns: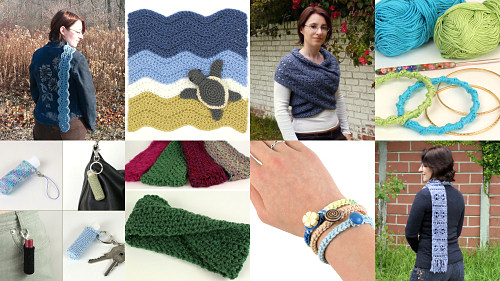 Or save when you buy a Custom Set of any 3 regular patterns: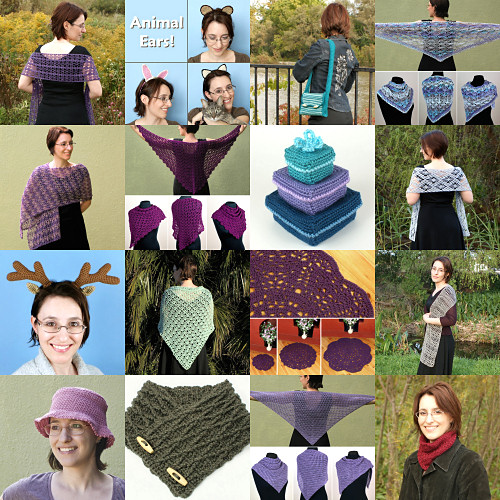 You can also find all these patterns individually in the PlanetJune Accessories section of my shop.