Trendgarne kindly sent me some of their ONline Linie 346 Arona yarn, and I decided to try it out with my free Chunky Moebius Cowl pattern. Isn't it lovely?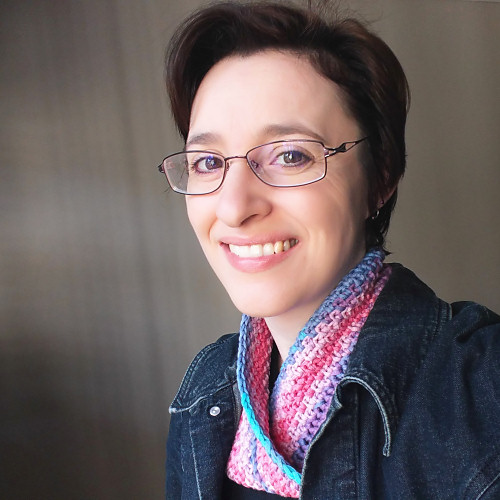 Arona is a 100% cotton ribbon yarn that comes in a 100g ball, which provides a generous 230m of (roughly) worsted weight yarn.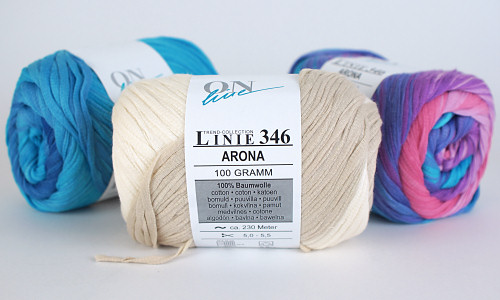 As you can see, it comes in a beautiful range of variegated shades with slowly-changing colours. I really love all these colourways – aren't they gorgeous?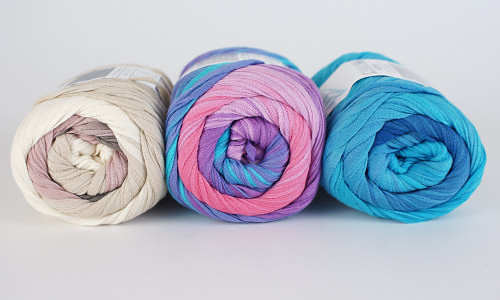 This yarn has an unusual flat ribbon construction, and there's no recommended crochet hook size given on the ball band, but the recommended knitting needle size is 5-5.5mm. (A good rule of thumb in these cases is to go up a couple of hook sizes from the recommended needle size, as crochet tends to need a larger size so the piece drapes nicely and isn't too stiff.)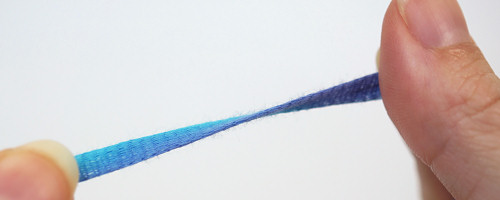 I swatched with a few different hooks and decided I like the fabric I got with a K (6.5mm) hook. As this yarn is finer than my pattern calls for, I started with a 76 stitch foundation to make a 22″ circumference cowl.
The moebius construction means that the cowl is worked outwards from the middle, and I enjoyed watching the colours change as my cowl grew, from the blue-purple foundation, through light purple and then on to pink and beyond…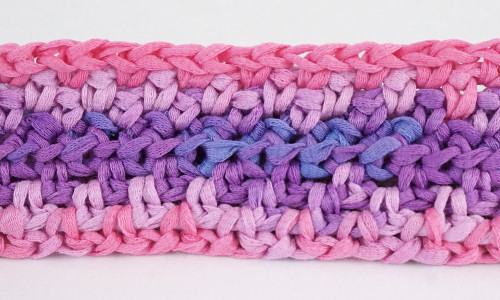 The yarn is easy to work with and the stitch definition is amazing. Even a simple stitch pattern like this stands out clearly and looks so good with the colour-changing yarn.
I worked 10 rows of my pattern until my cowl was 5″ tall. It was finished in no time, and took less than half a ball of yarn (making it a real bargain!)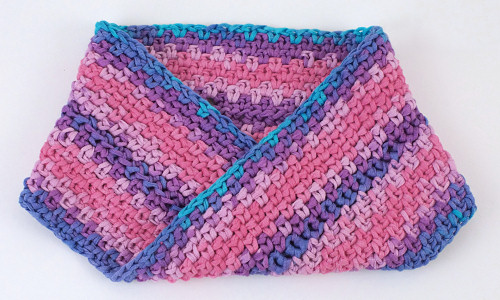 The finished cowl is smooth and cool in the cotton yarn. It feels lovely against my skin and would be perfect for the first chill of breezy autumn days.
As you can see from my selfie at the top of the page, my new worsted weight yarn cowl looks just as good as the chunkier versions, and it sits beautifully against my neck under a light jacket without excess bulk while still keeping my neck warm (useful now I have such short hair…)
---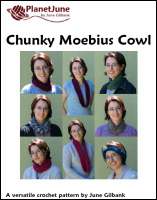 If you'd like to make a Chunky Moebius Cowl too, my pattern is free here – it's a fast and fun stashbusting pattern, and a great choice if you're making a start on your Christmas gifts!
As this is a donationware pattern, if you donate a dollar or more you can get the PDF version, which includes bonus content, including a fully illustrated explanation of how the Moebius construction works, standard measurements for man, woman, and child, and additional step by step photos.
---
I'm looking forward to coming up with the perfect pattern to use my other balls of the Arona yarn! I really enjoyed its smoothness, stitch definition, and, of course, the wonderful colourways. If you'd like to try this yarn too, here's the Arona Ravelry listing (it includes some links to online stockists, in case you can't find it locally).