Chunky Moebius Cowl is part of the PlanetJune Accessories range of crochet patterns by June Gilbank.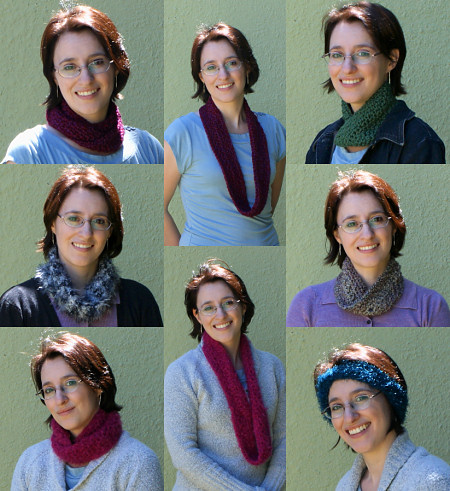 This versatile unisex pattern is Donationware – the pattern is available for free, but if you like it please consider sending me a donation to show your appreciation: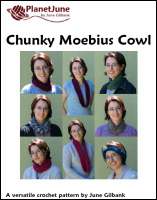 Send me a donation and receive the easy-to-print PDF version of the pattern as a thank you! It includes some additional info that you'll only find in the PDF version:
– A fully illustrated explanation of how the Moebius construction works
– Standard measurements for man, woman, and child for each of the 3 styles
– Additional step by step photos for working through Rnd 1
– An alternative foundation with a large gap between each stitch – perfect for fuzzy yarns
Donations of any size are much appreciated. Just add the amount you wish to donate, and, once you have checked out and paid, your pattern will instantly be available to download from your PlanetJune account.
The complete pattern and instructions are available below, regardless of whether or not you choose to pay for them 🙂
This is a PlanetJune original crochet pattern. Feel free to use items made from this pattern however you wish, but I'd appreciate credit as the pattern designer. Please do not reproduce the pattern anywhere else; instead post a link to www.planetjune.com/chunkymoebius
Not ready to make it yet? Add it to your Ravelry queue:
here
Terminology
| | |
| --- | --- |
| ch | chain |
| ch-sp | chain space |
| fsc | foundation single crochet (foundation double crochet for UK/Aus) |
| sc | single crochet (double crochet for UK/Aus) |
| sl st | slip stitch |
| st | stitch |
You will need…
Yarn of your choice (#5-#6 bulky or super bulky recommended – see examples, below) and an appropriate hook (at least a couple of sizes larger than the size recommended on the yarn's ball band  – see Gauge, below)
All samples use an N US/10mm hook
Yarn needle to weave in ends
Scissors
Examples
This cowl is extremely versatile! I've made 6 samples so you can see how it looks in different yarns and sizes: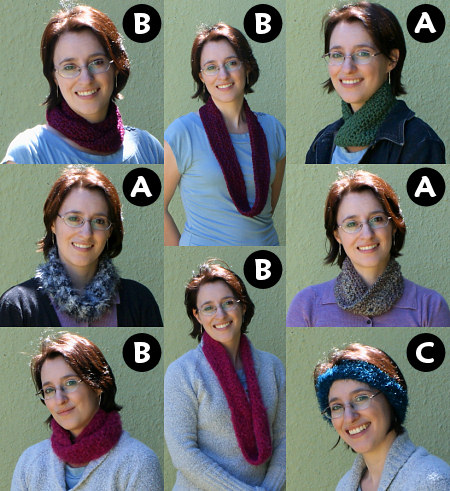 A: Single-wrap cowl. 4-6 rounds.  This makes a cosy neckwarmer – use a plain yarn for a men's version.
Samples, clockwise from left:  45m grey Sean Sheep Cassowary (#5 bulky); 40m green Bernat Softee Chunky (#5 bulky); 28m grey/multi Lion Brand Homespun (#5 bulky).
B: Double-wrap cowl. 3-4 rounds. Wear it long as an infinity scarf, or wrap it twice around your neck.
Samples, top to bottom: 116m Bernat Satin Sport (#3 light DK), held doubled (one strand each of red & purple); 55m pink Schoeller+Stahl Grazie (#6 super bulky).
C: Earwarmer. 2-3 rounds. Keep your ears toasty, or you can wear it as a headband. Wear it with the twist at the front or jauntily off to one side.
Sample: 18m blue Patons Allure (#6 super bulky).

Measurements
Finished sample cowls measure approx 22″ (short) or 44″ inch (long) by 2.5″- 5″ tall (2″ for the earwamer version). Make your cowl as wide and tall as you wish:
Circumference: Simply make your foundation row with the same length as the desired circumference.
Height: The height of the cowl is fully customizable – keep adding rows until the scarf is the height you like!
Gauge
Gauge is not important for this pattern – I suggest a large 10mm hook so the cowl works up quickly, but you could substitute a smaller hook with a heavy worsted or bulky yarn – it'd just take more stitches and rows to make the same size cowl. The most important factor is that the hook is large enough to make a fabric that isn't stiff, so, if in doubt, choose a larger hook.
Special stitch
Foundation single crochet (fsc). This technique creates both the foundation chain and a row of single crochet stitches in one row. It makes a stretchy foundation, and is far easier to work into than a chain.
First fsc stitch: ch 2, insert hook into second chain from hook and draw up a loop, yarn over and draw through one loop on hook (this forms the chain), yarn over and draw through 2 loops on hook (this forms the single crochet). (1 fsc completed)
Each subsequent fsc stitch is worked under the 2 loops that form the chain at the bottom of the previous stitch. Insert hook under both loops of the chain, draw up a loop, yarn over and draw through one loop on hook (this forms the chain), yarn over and draw through 2 loops on hook (this forms the single crochet).
Pattern
Please note this looks much clearer in the PDF version! Why not donate a dollar (or more) and you'll get the nicely formatted printable version?
Note:
This cowl is based on a Möbius (we say Moebius, for convenience) strip, a mathematical construction that has only one surface and one edge. But it's very simple to crochet: just twist the foundation row before joining the ends, and you have a Moebius strip! It all works like magic from that point on – all you have to do is keep going. To make one complete crocheted round, you'll actually go around the loop twice, once around the top, and once around the bottom, even though you'll never turn your work or change direction!
Foundation Row: Leave a 6″ starting tail. Fsc a multiple of 2 stitches until you reach the desired length (this will form the circumference of the cowl). Sample cowls used 46 fsc for a single wrap; 90 fsc for a double wrap.
Lay the foundation out, making sure it isn't twisted. Bring the ends together (the hook should be at the top edge and the starting tail at the bottom edge). If you're unsure about the Moebius construction, place a stitch marker in the first stitch:

Twist the non-hook end so the starting tail and the row of 'chains' across the bottom of the fsc stitches are now at the top, and the stitch marker is at the bottom:

Rnd 1: Sc into the 'bottom chain' (now at the top) of the first stitch to join the ends together, then (ch 1, skip next st, sc in next st) around.
When you have crocheted all the way around the loop, you have completed half a round. Next, you'll work around the other edge of the foundation – make sure not to untwist the join before you continue.
Ch 1, sc in first stitch (the marked stitch), then (ch 1, skip next st, sc in next st) around.
When you have crocheted all the way around the loop again, you've covered both sides of the foundation, and completed the first round (2 circuits of the loop). It's all simple from here; you'll be crocheting in a continuous spiral.
Rnd 2: Skip the first st, ch 1, (sc in next ch-sp, ch 1, skip next st) around.
Repeat Rnd 2 as many times as desired. Sample cowls have between 2 and 6 rounds.
Final Rnd: Continue until last ch-sp, sl st in last ch-sp.
Fasten off, leaving a 6″ yarn end. Optional: use the invisible finish technique to smooth out the join (this isn't necessary for textured yarns). Weave in the remaining yarn end.
You'll see that there is a small hole in the middle of the cowl, next to the starting yarn tail. Use this yarn tail and a yarn needle to stitch across the hole to close it, then weave in the remaining end.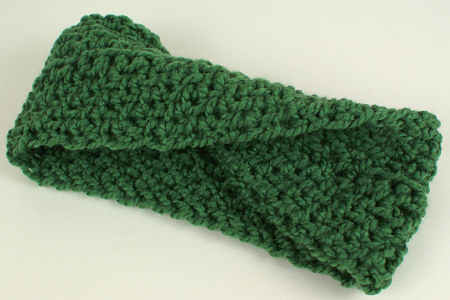 I hope you enjoy this pattern. Please leave me a comment below if you do, and consider leaving me a donation. Thanks!