Look what's arrived!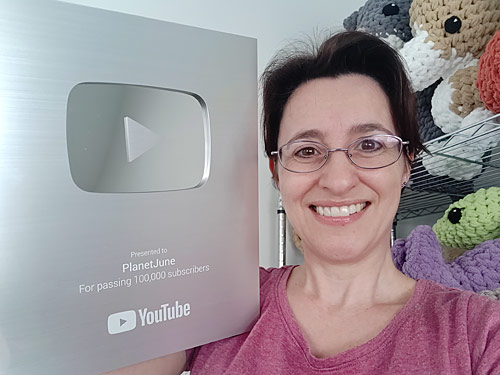 That's right, I can't quite believe this, but I now have over 100,000 YouTube subscribers! And YouTube have sent me a shiny silver Creator's Award to commemorate the achievement – how cool is that?
I actually hit 100k in December (I have over 101k now!) and I wanted to do something to celebrate right away, so I decided to be brave and show my face on video for the first time ever, as well as giving you a glimpse into my design process as I celebrated by crocheting a silver play button.
If you haven't seen it yet, here's my video:
Note: The video may look a little small embedded in the blog: if so, you can fullscreen it or click through to YouTube to watch it full-sized 🙂
(And if you haven't subscribed to the PlanetJune YouTube channel yet, now would be a great time! I'm gearing up to publish more crochet tutorial videos this year…)
Here's my crocheted play button: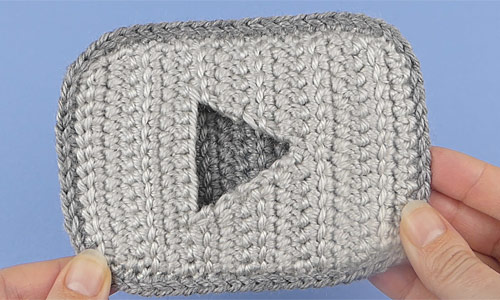 When my real award arrived, I was surprised by how close my crocheted version turned out to be! The shape of the button is pretty close, and the size of the button and the 'play' triangle are almost perfect…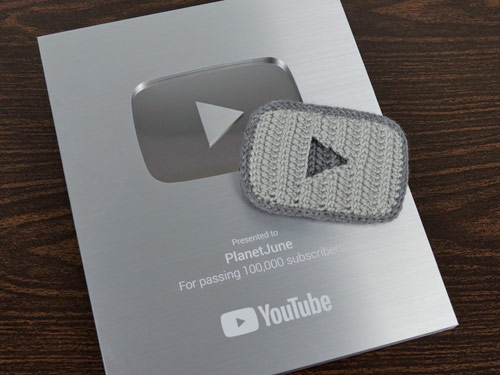 Let's pretend I intentionally designed it to be exactly the right size, okay?
I can't describe how strange and cool it feels to be a part of a top tier of YouTube, especially because I don't play the game the way you're 'supposed' to – I don't publish content regularly, I don't fish for subscribers, I don't have clickbait-y titles…
My strategy has always just been to make clear, concise and helpful crochet tutorial videos, and it's so validating to have this recognition that PlanetJune is a valuable YouTube resource, even if I'm not a typical YouTuber!
(I don't suggest you try to follow in my footsteps if you want to grow your own YouTube channel – it's taken me over 10 years to reach this point using my lack-of-strategy, so there's a distinct lack of instant gratification with my method! But this is the way it works for me; I don't plan to go anywhere, and I've always been playing the long game of quality and commitment.)
By the way, it turned out to be quite tricky taking a photo of my award – especially as a selfie – because the play button itself is mirrored!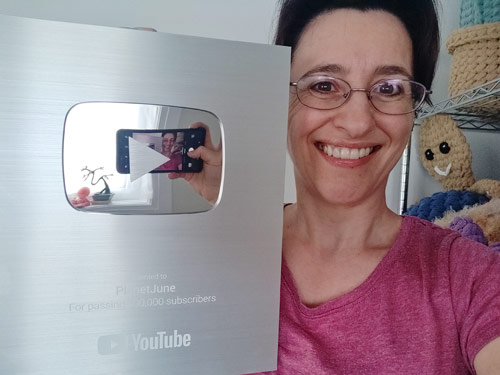 See? The truth behind my selfie magic is revealed… 😀
Woohoo! 100 thousand subscribers… isn't that mind-blowing?! I'll definitely have more videos coming soon – I can't let a tenth of a million people down, can I?