Summary: I'm moving house next week, and I'll be mostly offline for the rest of the month (apart from answering customer support emails).
---
We closed on our new house in January, but haven't been able to move in yet due to covid-related manufacture/supply delays in our new appliances (something we weren't informed of until we'd already paid for them in full… )
I was told we'd have our appliances by the start of April, so I gave notice to our landlord and planned for an April move.
The Appliance Saga
This situation has been a comedy of errors. I was notified in March that the fridge we ordered in January was now discontinued, so they offered us the upgraded model instead. It was only two weeks later that they bothered to mention that our new fridge wouldn't be in stock until… wait for it… August!
What to do?! We couldn't keep paying for two houses for another four months (assuming the promised August delivery date even happens…), so I decided to proceed with the move and persuaded the appliance company to deliver and install everything else in the meantime.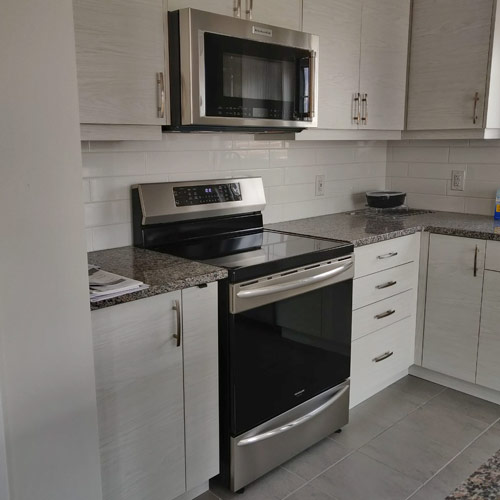 Ooh, shiny! Don't they look fancy?
And, as for the fridge, I've bought a mini fridge in the meantime to tide us over: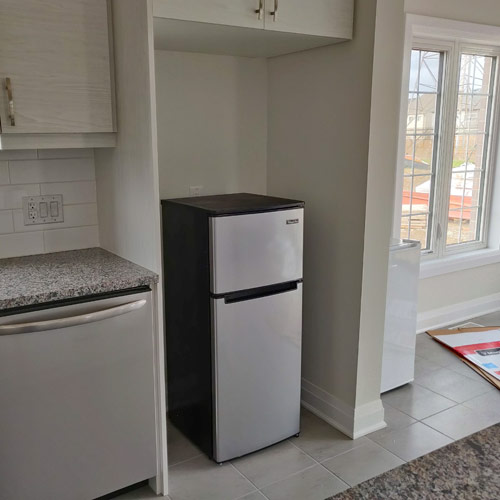 Don't laugh – my poor little fridge already has an inferiority complex from being in such a large space!
Living like this is going to be a 'fun' challenge for the next few months… We're trying to eat as much fridge and freezer food as we can before we move, to minimise waste. And I'm looking forward to how luxurious it'll feel when the new full size fridge/freezer finally arrives 😀
COVID Scare Update
Things were moving forwards, until I got an email warning me that I may have been exposed to COVID by one of the appliance installers..! We were all wearing masks, of course, and I tried to stay as far from them as possible in the house while they worked, but it was still a scary prospect. I had to get tested and faced the possibility of having to isolate and postpone the move if I tested positive.
Thank goodness, I dodged the bullet and my test came back negative, so we were back on track…
Move Update
Moving house is exhausting. I thought that a local move would be simple, but I still have to organise and pack, load and unload my little car hundreds of times, and unpack it all at the other end.
My bad knee means that carrying heavy things is not an option, and carrying even light things up and down stairs is a problem for me. (We're hiring movers for the big things, but we want to get all our personal stuff moved over and organised before move day so we can enjoy living in our new house instead of being surrounded by boxes for weeks…)
It's coming along, slowly but surely…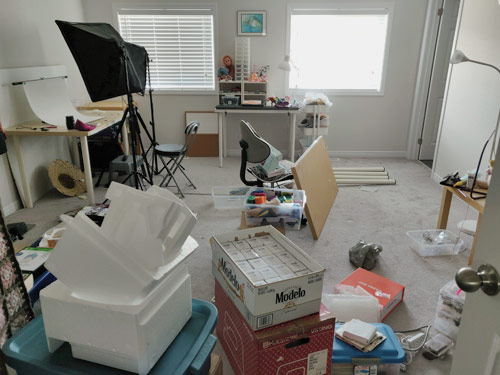 Half of the contents of the PlanetJune office/studio – including my full yarn stash – has already left here for the new house 🙂
PlanetJune Update
I have four (or more?) patterns in various stages of completion, but I don't have the brainspace to finish any of them to my standards right now. So I'm officially taking the rest of April away from PlanetJune to concentrate on getting our forever home set up, and getting our rental home ready to return to the landlord.
(I'll still be doing my daily tech and admin tasks and responding to customer support emails, of course – running a one-person business means there's no such thing as true "time off". So if you need me for anything, don't worry – I'll still be here for you, within a day or two.)
---
And now, I'd better get back to prepping for the move – wish me luck!
I'll see you on the other side…