I decided to join the CRAFT Crochet-Along to make a Fuzzy Panda Amigurumi this month. I thought it would be interesting to put the results of my brushed crochet experiment into action, plus I could connect with more crocheters, and maybe it would be be relaxing to make someone else's pattern for a change!

Me being me, I couldn't resist tweaking the pattern in a couple of places. Here are my changes, in case you'd like to make a panda like mine:
I'm sensitive to wool, so I used acrylic yarns: Lion Brand Vanna's Choice for the white and Red Heart Soft for the black
I spaced out the increase and decrease rounds on the head to make it a more rounded and less boxy shape
I added a few extra rounds on the body and limbs to make them longer
I used solid black animal eyes with a white felt ring behind to make the eyes stand out from the black eye patches and give him that slightly worried expression
I changed the position of the eyes, the shape of the nose, and skipped the mouth altogether
And here's my result: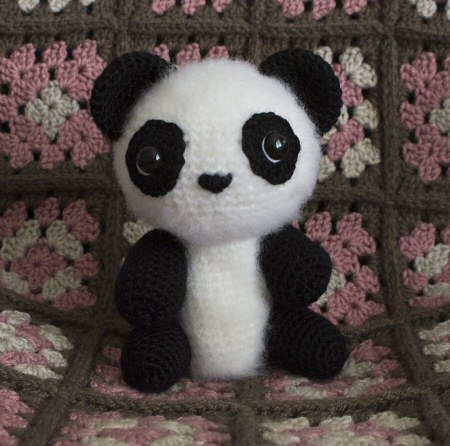 Click through for larger pic at Flickr
It was a fun diversion to make the panda, and I think it definitively proves that you can brush acrylic yarn, so don't be scared to try it for yourself 🙂
The Crochet Along is still going if you'd like to join up and make your own panda! You can check out the pandas everyone's been making in their Flickr pool.