I'm sure you've heard of 'Sister' Diane Gilleland, the creator of the popular Craftypod podcast and blog. A few months ago, Diane entered the world of self-publishing via eBooks with her first offering for craft bloggers: Making a Great Blog: A Guide for Creative People. Diane's latest eBook, Creating a Blog Audience: An Unconventional Marketing Guide is the next in her craft blogger series, and something I thought might be useful for me as I try to reach new customers for PlanetJune…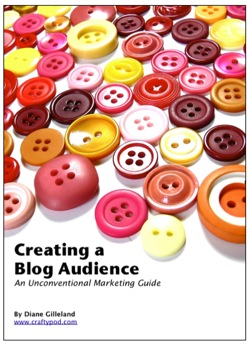 The first thing I noticed when reading this book is that Diane's voice really shines through. If you've ever listened to Craftypod, you'll know exactly what to expect – every word is written in Diane's warm, clear, conversational tone and it's hard not to imagine her speaking the words on the page directly to you.
As the subtitle of the book suggests, this is indeed "an unconventional marketing guide". Far from the traditional marketing concept of sending out your message to everyone possible and hoping some of them will listen, Diane focuses on 'Engagement Marketing' techniques: engaging with people and, by doing this, starting to build a community of people who are actually interested in what you have to say.
As an established blogger (I'm now into my fourth year of blogging!) I'm fortunate to already have an audience of wonderful readers, and a lot of the material in this book covers things I already do. Having said that, this book provided a new way of thinking about these things, and I've been able to identify several areas that I'd like to invest more time in – even things as simple as commenting on others' blogs (which I'm guilty of not doing often enough, as I usually read posts through Google Reader and don't take the time to click through to tell people I enjoyed their post or to leave my opinion). And some of Diane's suggestions were completely new to me – her Gathering Place #5 was something I'd never even considered as a place to meet like-minded people, although it makes total sense. (You'll have to buy the book to find out which website I'm talking about!)
Diane's advice is tailored to craft bloggers, so it's very easy to understand and apply. Diane includes a set of worksheets to help you identify and plan for what will work best for you and your blog, and related links and resources on her website.
If you're a new or relatively unknown blogger and are trying to build an audience for your blog, you'll find this book will be absolutely invaluable. If, like me, you already have an audience but are looking for ways to grow and to market your business, you'll find some tips in here that will help you to increase your audience and build your community. Now I just have to put what I've learnt into action!
Creating a Blog Audience by Diane Gilleland is 62 pages long and is available to purchase for $13.50 from Craftypod.