My lemmings pattern continues to take over the world 🙂 Here's another commission I just finished, (currently on their way to Italy):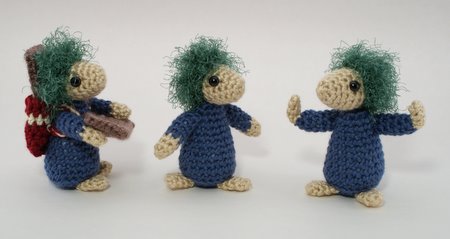 And this is just too cool not to share: JS left me a comment on my original lemmings post to tell me about a project planned and executed to perfection by the craft club at the Helsinki University of Technology. The girls in the club spent five months secretly crocheting about 200 (yes! two hundred!) lemmings based on my pattern, and then strategically arranged them – walking, building, climbing, floating, etc – all around the IT building.
Here are some waiting to be arranged:
And some action shots:
Isn't that the coolest thing ever?! Congratulations to everyone involved in the epic project – it looks amazing. I'd love to walk through a building and see tiny lemmings popping up everywhere I looked!
If you'd like to make your own lemmings, the basic Mop Top Mascots pattern is free (donationware). If you leave a donation, the PDF version also includes hints for how to adapt the Mop Tops into the various lemmings 🙂 Thank you to those who have donated already – I really appreciate your support!