Note: Don't miss the launch discounts, at the end of this post!
I'm delighted to reveal my 2018 PlanetJune Accessories shawls and wraps crochet pattern collection – it's been over a year in the making!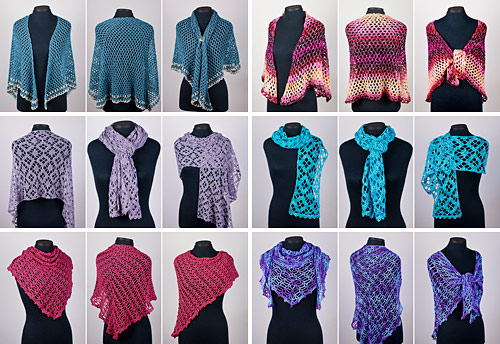 My 2018 collection comprises three different shawl shapes, all very versatile: as well as making them in the same size and similar yarn to my samples, you can use pretty much any yarn weight and customize them to any size, if you prefer.
To demonstrate this, I've made two very different samples for each pattern, so you can see what I'm talking about! Let's take a look…
Half-Hexagon Shawl
The Half-Hexagon shawl wraps you in a crocheted hug without any excess fabric, and drapes almost like an elegant cardigan. The lacy pattern is simple enough to take advantage of a yarn with long colour changes, or use the optional contrast-colour version of the border to give a standout finish if you're working in a single colour. Worked from the centre top, you can just keep crocheting until the shawl is the size you want and then add the decorative border.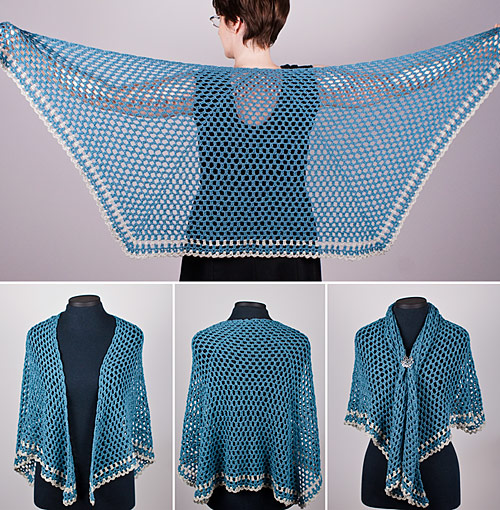 For the main sample above, I used Loops & Threads Woolike (acrylic/nylon super fine) yarn in Teal Lake, with the contrast-colour border in Gray, which I think makes such an elegant finishing touch.
For my second sample, I used Lion Brand's Shawl in a Ball (cotton/acrylic light DKish) yarn – as the name suggests, you really can make an entire shawl from one ball of this yarn, which comes in some lovely colourways! I used the delicious Community Coral colourway, and I think it turned out beautifully: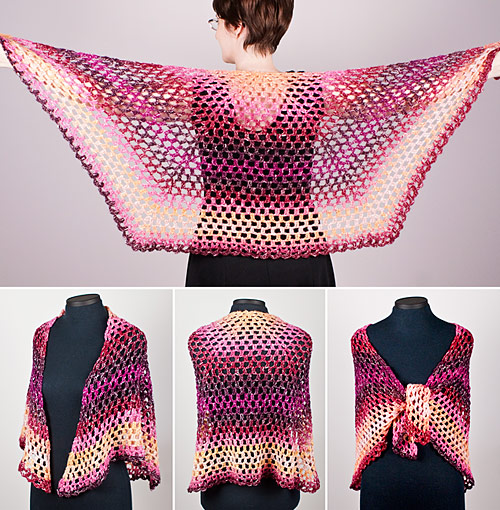 Diamond Lace Wrap
Wear this lovely wrap as a rectangular shawl to show off the stunning diamond pattern to the full, or as a lacy scarf. Choose your favourite solid or semi-solid colour and watch the alternating solid and lacy diamonds appear as you crochet. The pattern includes full instructions to make a shawl as deep as you want, or whip up a narrower scarf/wrap in a fraction of the time with equally eye-catching results!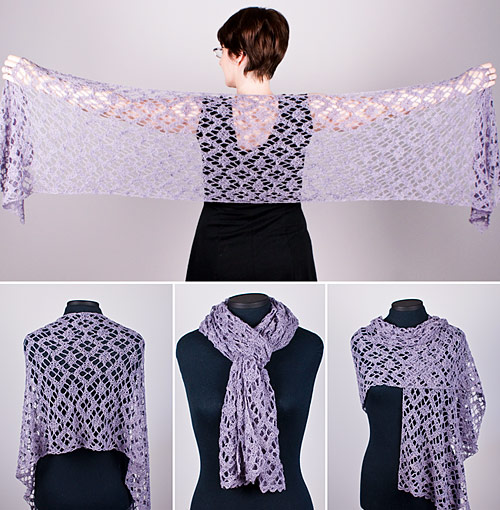 For the main sample above, I used most of a 100g hank of Natural Dye Studio Angel 2-ply lace (baby alpaca with a touch of silk and cahmere) in Heather, and it's so light and floaty.
For my second sample, I was lucky enough to try a new test colourway for up-and-coming indie dyer Incyanity (her shop will be opening for business soon, but you can follow her on Instagram in the meantime!) This wonderful tonal teal shade in merino/nylon fingering weight really made the stitch pattern in my scarf-sized version pop: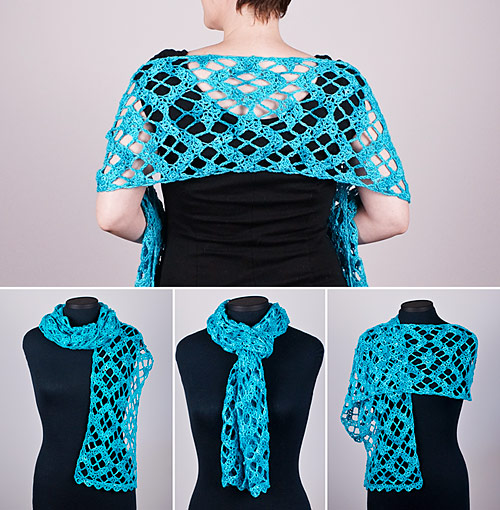 Sweetheart Lace Shawl
Sweetheart Lace Shawl is a triangular shawl with an elegant curve along the top edge so it hugs your neck and won't fall off your shoulders. Using only basic stitches, the lace grows from the centre top so you can keep crocheting until the shawl is the size you want, then add the picot border as the finishing touch.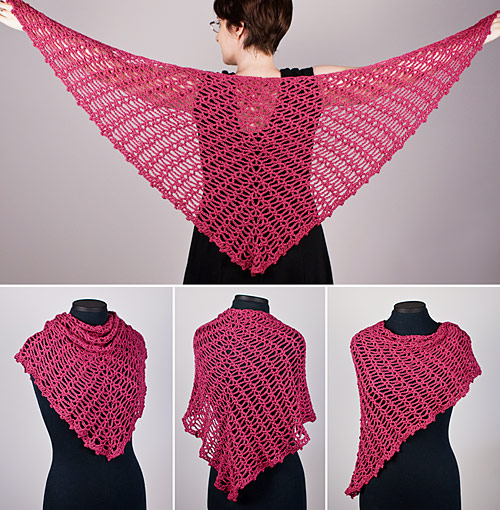 For the main sample above, I used Carlton Silky Aran yarn (DK acrylic microfibre) in a delicious raspberry shade.
For my second sample, I used Incyanity's Amethyst Sky colourway in merino/silk fingering – isn't this just gorgeous? The stitch pattern in this shawl is lacy enough to take advantage of those ever-changing sky blues and purples without being obscured.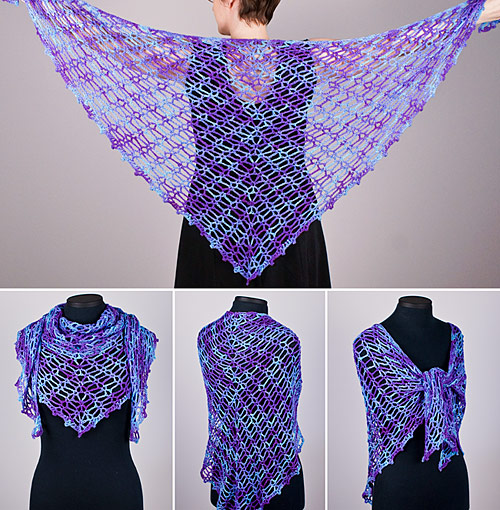 ---
So, what do you think of my new designs? Do you have a favourite in the collection? I truly can't decide! If you can't either, I'll make your choice easier with some discount prices…
Links and Launch Discounts
Links to buy: You can buy the new shawl patterns individually from my shop:
…or as part of a Custom Set of any 3 PlanetJune Accessories patterns for a special price.
But, to celebrate the launch, I have three special offers, for one week only:
Buy one of the new shawl patterns and save 10% (code: SHAWL1)
Buy two and save 17% on each (code: SHAWL2)
Buy all three and save 25% on each (code: SHAWL3)
Just add the shawl(s) to your shopping cart, and enter the appropriate code in the Discount box at checkout to receive your automatic discount! Valid until next Tuesday, 6 November 2018.
(Please note: you must have all the shawls you've chosen in your shopping cart at once for the discount codes to work. Not valid on the Custom Set – but the SHAWL3 code gives you a better discount than the Custom Set anyway!)
Crochet-Along
If you're making one of these shawls this year, please join us for the Accessories CAL in the PlanetJune Ravelry group and let us know right away which shawl you're planning to make first and what yarn you'll be using! I can't wait to see which colours you choose…