In preparation for the launch of my upcoming 2018 PlanetJune Accessories crochet pattern collection of shawls, I decided to revisit my older shawl and wrap pattern photos. When I published my first collections of PJ Accessories patterns in 2010-2012, I didn't have a mannequin, and the old photos (with me modelling the shawls) don't really show my designs at their best!
Over the past few weeks, I've washed and reblocked all my older design samples, and photographed them all on my mannequin. And here's the result – all the PlanetJune Accessories shawl and wrap patterns to date, with three styling ideas for each one: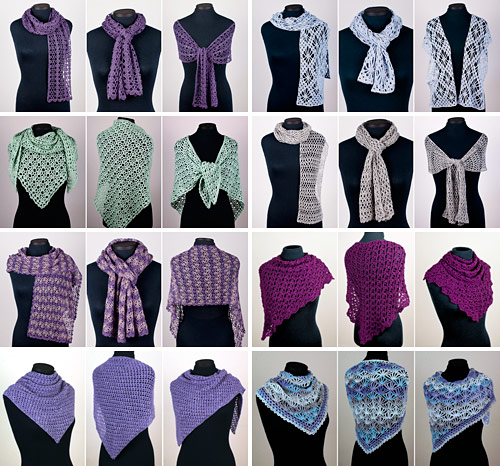 Ahhhh! Don't they look good?! I'm thrilled with how much more clearly the new photography shows my designs, and how much more cohesive the range now looks.
If you'd like to see any of these shawls and wraps in more detail, click here to see all my shawl and wrap patterns. Or, if one in particular has caught your eye, here are the direct links to all the pattern pages (clockwise from top left in the above image):
* patterns with updated photography
All these patterns (and many more other accessories) are available as part of my Custom Set of any 3 PlanetJune Accessories patterns for a special price. Click here to mix-and-match your bargain set now!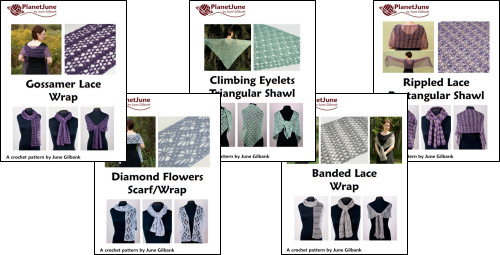 (By the way, only the covers of the patterns pictured above have changed, but, if you've already bought any of these patterns and would like the latest version with the updated cover photos, you can of course re-download the new versions from your PlanetJune account.)
Sneak Peek Time…
Next week I'll be adding my 2018 collection to the PJ Accessories range – here's a quick teaser to whet your appetite for the new additions: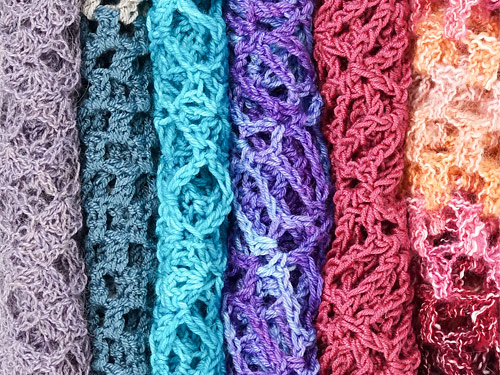 The new shawl collection will include three different shawl shapes, and they're all very versatile: as well as making them in the same size and similar yarn to my samples, you'll be able to choose to use pretty much any yarn weight and customize them to any size, if you prefer.
Check back next week, or make sure you're signed up for my newsletter to get a reminder so you don't miss the launch discount for the new collection 😀