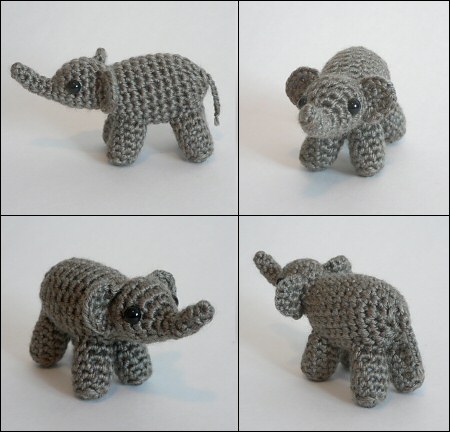 I think I'm in love! He just flowed straight out of the yarn like this – I barely even had time to think about designing an elephant before he was there.
He's crocheted from one of the new 'heather' shades of Bernat Satin
– have you seen them? I'm really excited about these new shades! They would make lovely colours for clothing too, and Satin is so soft I'd probably be happy with it against my skin, unlike Vanna's Choice, which has some gorgeous colours, but isn't quite as soft as I'd like.
Now back to the elephant: I've made him very small for a specific purpose – he's going to be getting a big brother for the pattern version 🙂
UPDATE: Looking for the pattern? You can find the AfricAmi Elephant crochet pattern in my shop.