I've had this one in the works for a while, so I'm really happy to finally be able to show you my latest design: Lucky Bamboo. A crocheted Lucky Bamboo arrangement never needs watering, never dies, and is always fresh and green. It's the perfect thing to brighten up your office desk, or to give as an unusual and thoughtful gift. Add a little Zen tranquillity to your life with a Lucky Bamboo!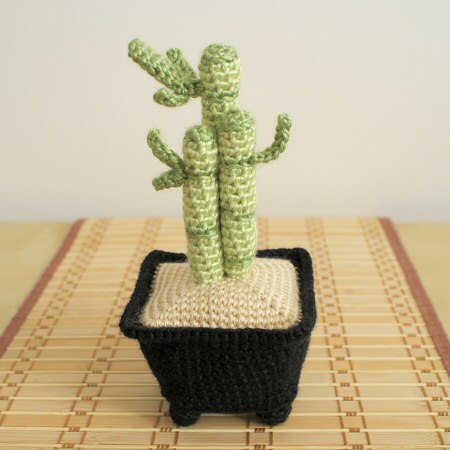 Did you know that Lucky Bamboo isn't really bamboo at all? It's actually a tropical plant called Dracaena sanderiana (Ribbon Dracaena) that just happens to have a bamboo-like appearance. Lucky Bamboo is often associated with Feng Shui, and the number of stalks in an arrangement have significance in Chinese tradition: three stalks (as in my design) for happiness, five stalks for wealth, seven for health…
I really stretched myself with this design: I wanted to make a Chinese-style pot with sloped squares sides, but, as you probably know, working amigurumi-style in the round really doesn't lend itself to making corners. After much trial and error, I've managed to develop a technique that produces real square corners, even while working in the round in spirals! The shaping is built right into the crochet, and even when you stuff it, the square corners remain right up the sides. It's a little tricky to see with my black pot, but it may be more obvious when you see the pot at an angle: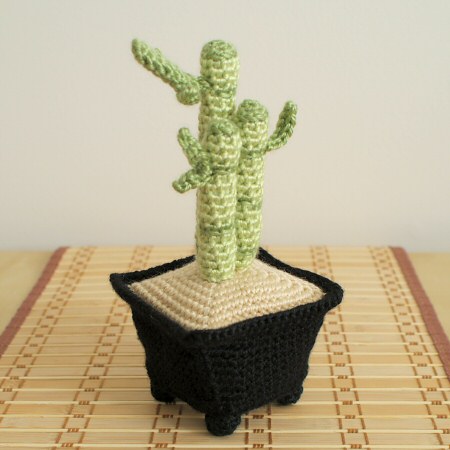 The Lucky Bamboo pattern also features a few bonus modifications you can use to make the pattern your own:
Full patterns for three stalk sizes, and instructions to create different stalk lengths
Three different leaf styles so you can mix and match to create a larger arrangement, if desired
Alternative colour scheme, so that if you can only find one suitable shade of green, you can still achieve the full lucky bamboo effect
If you'd like to make a Lucky Bamboo of your own, or to give as a special gift, the pattern is now available in the PlanetJune shop.
I hope you like my design! I've been getting requests for more plant designs for a long time now, so I hope this will satisfy the plant-lovers out there 🙂 Any other design requests? Keep 'em coming – I'm always on the lookout for new, original, ideas.