I thought it would be good to kick-start my new Ravelry group with a fun crochet-along (CAL) – will you join us? The Spring CAL gives you a choice of a couple of my free patterns: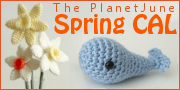 Daffodils are a perfect way to celebrate spring. Make one daffodil, or a whole bunch! You can use a single flower as a pin or to accessorize a bag, or make an everlasting vase of daffodils that will never fade away.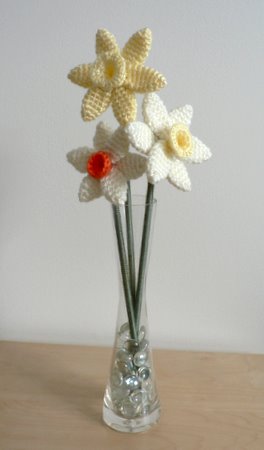 Or, if you don't have enough time to make a Daffodil, try my Tiny Whale pattern – I guarantee you'll be able to find the time to make one! I can whip one up in 10 mins, so even a novice crocheter should be able to make one in under an hour.
Tiny Whale is a great introduction to amigurumi because it's so quick and cute. If you don't need a whale for yourself, or know any kids who'd like one, how about adding a little catnip to the stuffing and you'll have an adorable cat toy!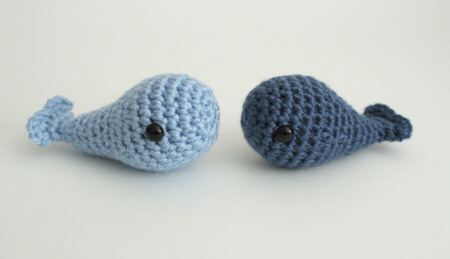 The Spring CAL will run in the PlanetJune Ravelry group until the end of May, to give everyone plenty of time to make one or both patterns. As with the Groundhog-along, I'll do a roundup of all the projects here on my blog at the end! If you don't already have a Ravelry account, I highly recommend that you join – it's free, and a great resource for all crocheters and knitters 🙂
A CAL is most fun when lots of people join in, so if you're participating, please feel free to blog, tweet, etc about it, and tell all your friends who crochet! And feel free to grab a copy of the Spring CAL button for your blog: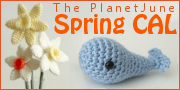 I'll be joining in too – I plan to make a Tiny Whale with a twist…
Will you join us in the PlanetJune Spring Crochet-Along? It'll be fun!
PS – Don't forget to enter to win a copy of Crochet for Bears to Wear in my contest!