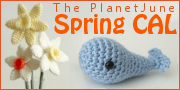 Have you joined the PlanetJune Spring CAL on Ravelry yet? I'm so excited to see the Whales and Daffodils starting to be posted into the group! The Crochet-Along runs until the end of May, so you have plenty of time to join in and crochet along with us 🙂
I wanted to join in the Crochet-Along too. Of course, I've already made Daffodils and Tiny Whales before, so I wanted to do something a bit different, but still crochet along with everyone else. So here's what I came up with: Mega Whale!


One of these whales is not like the others…
Mega Whale is made following the Tiny Whale pattern exactly, but instead of using worsted weight yarn and an E hook, I used two strands of a bulky weight yarn and an L (8mm!) hook. And I had to upgrade the eyes from the standard 8mm size to my largest 15mm size!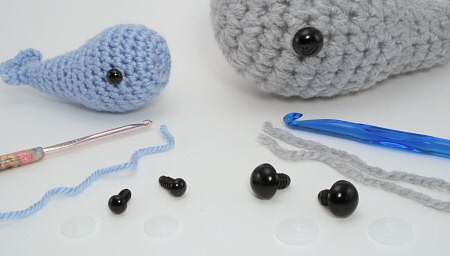 A regular Tiny Whale is 3.5″ long. Compare that with Mega Whale at 7″ long – it's amazing the scale difference you can make to an amigurumi pattern by sizing up (or down) the yarn, and choosing a correspondingly larger (or smaller) hook! Despite the same number of stitches, Mega Whale took considerably longer to crochet than a regular Tiny Whale: it's more difficult to keep the tension amigurumi-tight when you're handling two strands of yarn, and the squeaky plastic hook was so much more difficult to work with than my preferred aluminium hooks, which easily glide through the tightest stitches without the slightest squeak or resistance.
The invisible decreases, in particular, were a real challenge: trying to get the big plastic hook into the front loops of both strands of yarn required a bit of coaxing! But when you size up in this way, everything is increased – it's just like blowing up a photograph on a photocopier – and so as the stitches increase in size, the holes between your stitches also become larger. So the invisible decrease was absolutely invaluable for preventing a giant sized gap or bump at every decrease point, and well worth the extra second it took to begin each stitch!
I have to say, I still love this pattern. I designed it to be really basic – and, with no sewing involved and the whole whale worked in one piece, it doesn't get much more basic than this! It's amazing that something so simple can have so much character. Even though they don't have mouths (although you could certainly embroider one if you wanted!) you can just tell that these whales are happy and smiling. 🙂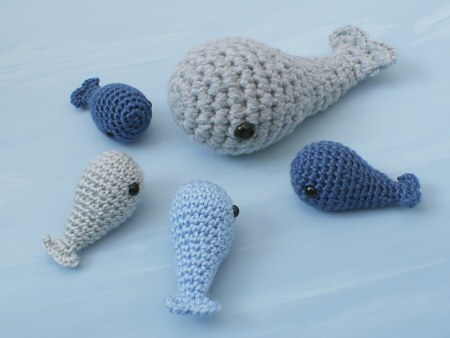 Mega Whale has happily joined the Tiny Whales and, as you can see, they have welcomed their oversized brother into the pod!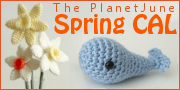 Do join us at the PlanetJune crochet designs Ravelry group and be a part of the Spring CAL! As I said at the start of this post, the Crochet-Along runs until the end of May, so you have plenty of time to join in and crochet along with us 🙂
If you don't use Ravelry, you can still play along – just upload your pics to the PlanetJune Crochet flickr group! (Or if you don't use Flickr either… um, just email your pics to me 🙂
PS – My giveaway ends on Monday at 6am 12 noon EST. Don't forget to enter the contest if you'd like to win a copy of 'Crochet for Bears to Wear'!