Last week, I got a big box in the mail. It contained all the sample projects I made for my book, Paper Chains & Garlands, and shipped off to New York over a year ago to be photographed. It's so strange to see them again after all this time!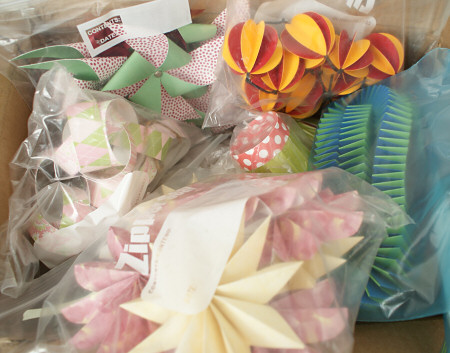 It brought me right back to early 2009, when I was writing the book – it was my first experience of print publishing, after years of self-publishing patterns and writing web-based tutorials. I thought some of you may be interested in hearing a bit more about my experience of writing my first craft book…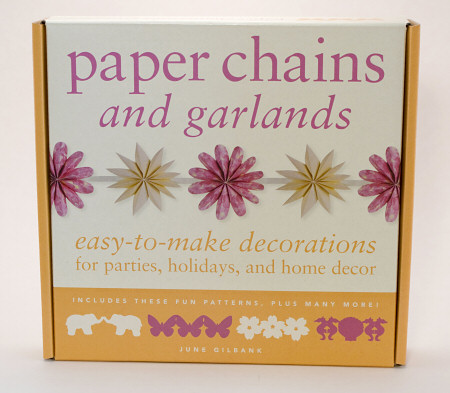 The timeline was very tight. I spent my days writing, designing, shopping for paper and tools, and learning more about how to use Adobe Illustrator for the book's illustrations. Evenings were spent cutting, scoring, folding, gluing. I re-started every time my scissors slipped, because I was not going to have an imperfect sample in my book. I cried in frustration when my hands were too painful to hold the scissors any more, and I had to stop for the evening. I gritted my teeth and went paper shopping yet again when my editor told me that one of my colour schemes wasn't going to work (when I'd already cut and folded over 100 pieces for the original sample!).
And then, after killing myself making 16 perfect sample garlands (of at least 5 ft long, and some much longer), the photographs in the book are all close-ups (at least my perfectionism paid off there!) and show no more than 1 ft of the garland in most cases, so most of my work was wasted… Although, now I finally have them back, I have ready-made paper decorations for every possible occasion 🙂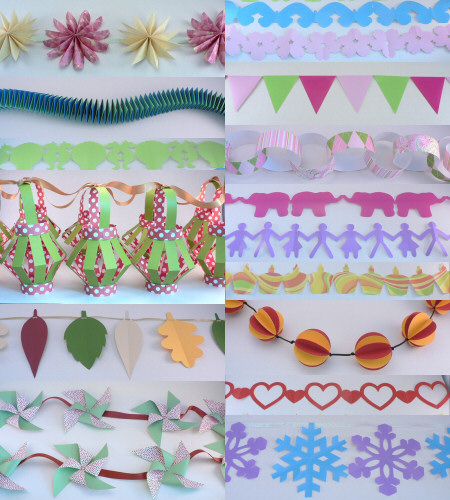 All this had faded in my memory, but seeing all the paper projects brought it all back. Please don't think I'm complaining: it was great experience and an eye-opening introduction to print publishing. The book is a Barnes & Noble exclusive (the big US bookstore chain), so it's hard for me to gauge how successful it is, when it's not even available to purchase here in Canada! But I see that its status at bn.com is 'sold out', so I assume that's a good sign! I'll let you know if/when it's reprinted and available again.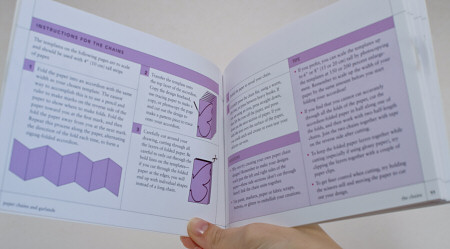 Don't get me wrong; I'm very proud of my first craft book and happy to have been given the chance to write it. But let me just say this: if anyone tells you that writing craft books is easy and fun, they may not be telling you the whole truth…