If you follow me on Twitter, you'll already know that I just discovered I live a one-hour drive away from the yarn-lovers paradise (aka the Bernat/Patons yarn factory outlet), and, as if that wasn't exciting enough, there's a big sale there this week – eek!
I headed out there this morning, through what should have been a lovely drive through farmland and Mennonite country (spoiled only by the dreary skies and insistent rain). I got there 10 mins before opening time, and there were already 2 cars ahead of me. By the time the doors opened, there were about 7 more cars waiting – I'm glad I'm not the only one who likes a yarn bargain.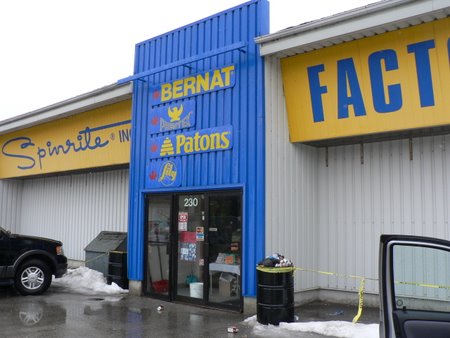 It's more exciting on the inside!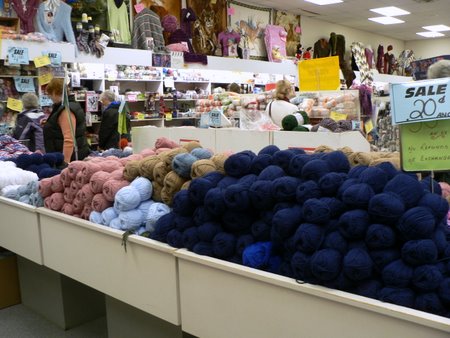 The yarn without ball bands is sold by the ounce… at a crazily low price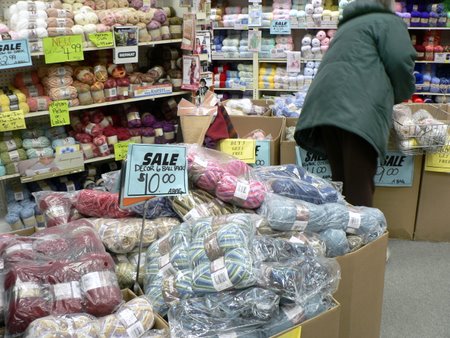 Amazing deals on bagged yarn – with an extra buy 3 get 1 free on the bags
I spent over an hour in there – it was just so difficult trying to decide what to buy, when everything was at such great prices. My only slight disappointment was that Bernat Satin was at regular store prices – otherwise I would have spent a lot more. In the end I managed to limit myself to this little lot: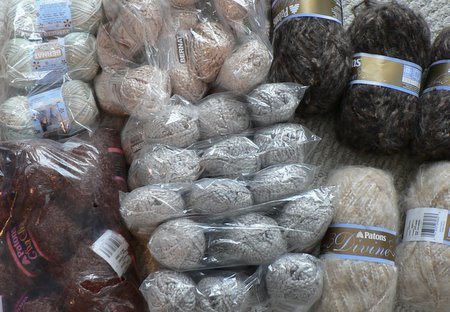 That's 24 x Bernat Bamboo, 10 x Patons Cha-Cha, 5 x Patons Divine, 3 x Bernat Cool Crochet. And all for under $40 (Canadian) INCLUDING tax. That's less than $1 per ball, and about a fifth of the regular prices!
Ahh, I just love a bargain – it was definitely worth the trip. I hope I haven't inspired too much yarn envy… What do you think of my haul?