Sorry, I couldn't resist that post title!
I am amazed by the response to my Lemmings, particularly on Craftster (7000 views and rising!). I'm glad I'm not the only one with fond memories of these guys! If you're wondering what all the fuss is about, you can play a port of the original Lemmings game online here or here (but don't blame me if you don't get any work done today – it is very addictive).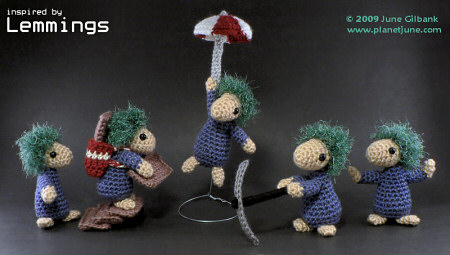 I've been getting questions about how I made all the accessories. I'm afraid I only improvised them, so I can't give you a real pattern for any of them. But I can give you some hints:
| | |
| --- | --- |
| | Umbrella To avoid having colour changes showing through, I made 6 triangles (3 red, 3 white) and then stitched them together into the umbrella shape, with a little hole in the centre for the handle to poke through. The handle is just a thin crocheted tube with a wire inside (the same wire goes right through the lemming to the ground to make the lemming float). |
| | Backpack I made a crocheted tube, flattened it and stitched across the bottom. The straps are just chains crocheted with 2 strands of yarn held together. |
| | Blocks To make each block, I crocheted a square then folded it in half and single crocheted around the edges. It was too floppy with only 1 layer of crochet. |
| | Pickaxe Crocheted around floral wires. The wire from the handle goes into the arms to keep it securely attached. |
| | Blocker's hands I made the arms a little differently for the blocker, in two pieces: |
Hand: 5 sc in magic ring, sc in each st around for 2 more rows.
Arm: ch 6, form into a ring, sc in each st around for 5 rows.
Flatten hand.
Stitch hand onto one end of arm tube before stuffing arm.
Oh, and I used Patons Cha-Cha in Reggae for the hair, but I know Fun Fur have a few green shades too.
Happy Lemming making!