Okay, I can't spin out the suspense any longer – I have to show you what I've made… It seems like there are a lot of Mario or PacMan inspired crafts going on at the moment, but I can't imagine why nobody has thought to make these before: amigurumi Lemmings!
Gamers of the '90s probably remember the classic Lemmings video game franchise – those hapless green-haired troops who followed each other in a line and would walk straight off a cliff to their doom if you didn't create a path to safety for them. It was an original and engaging puzzle/strategy game with really cute music. I used to love playing it on my cousins' Amiga, and later the tiny black-and-white version on my original GameBoy.
The way to play the game was to assign skills to some of the many lemmings in order to help as many as possible to safely navigate their surroundings and make it through each level. There were 9 different skills:
Walker: The basic model lemming. Walks and walks until he hits a wall or falls off a cliff
Blocker: Stops other lemmings from passing
Miner: Digs a tunnel with his trusty pickaxe
Floater: Falls from any height without damage thanks to his handy umbrella
Builder: Builds a bridge using the boards he carries in his backpack
There were also Digger, Climber, Basher & Bomber lemmings, but I didn't make those because they didn't have any interesting props.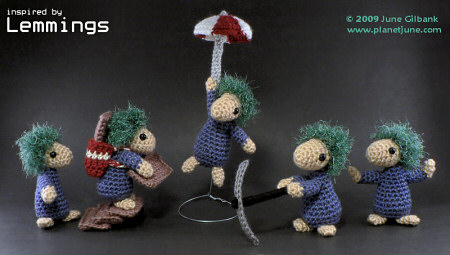 Please click through to see the full-size image – it looks so much better that way!
I crocheted all the Lemmings using my free Mop Top Mascots pattern, and I improvised their accessories to make them into the appropriate lemming. I crocheted around floral wire to make the pickaxe and umbrella handle, and I made a little stand for Builder's bridge out of black polymer clay (a crocheted bridge isn't stiff enough to support a lemming!). I also made a stand out of floral wire for Floater (you can see the base of it in the group shot), so he really does hang in the air.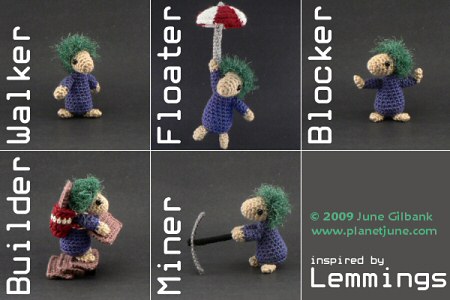 Click through to see the full-size image
It was such a fun project. My favourite parts to make were the umbrella and the builder's backpack – tiny accessories are just so cute!
Retro-game geek June signing off… Please leave me a comment if you like my Lemmings!
ETA: Just to make it clear, if you'd like to make your own lemmings, the basic lemming body uses my Mop Top Mascots pattern, and you can improvise your own accessories for them!
ETA: Bowing to pressure, I've added details for how I made the accessories in the next post…
ETA: If you are interested in commissioning any lemmings from me, please see this post! I can no longer take commissions – please see my FAQ for a possible alternative option.