I thought it was about time I gave my favourite readers another gift, so here it is: a fun new donationware pattern…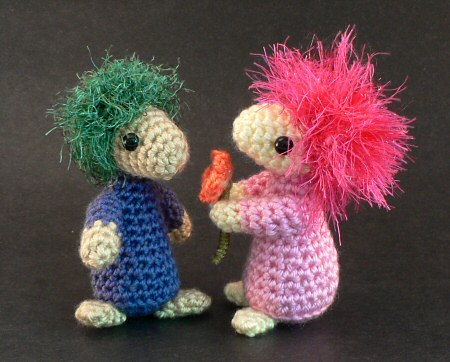 I've called these guys Mop Top Mascots for obvious reasons. They stand about 4″ tall, and the real joy of them is that they are so easy to make, and easy to customize. Here are some ideas to get you started:
Make them in your team colours
Make a messenger carrying a mini envelope with a message for someone special inside
Stick a felt logo on their chests to advertise anything you want
Make them in bold colours to bring back memories of Fraggle Rock!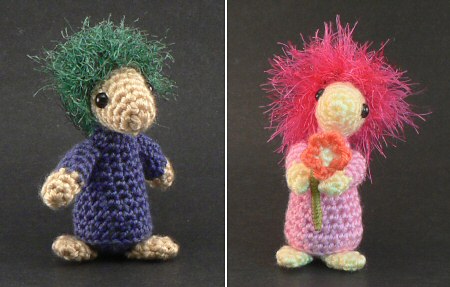 It's also a great way to use up scraps of fun fur or other novelty yarns, and there's only a few metres of eyelash yarn, so even those of you who are grinding your teeth at the mere mention of the fuzzy stuff should be able to manage this one! And don't forget my Fuzzy Yarn Tips if you need a little assistance.
I took the customization a little further, so stay tuned for the results of that in a separate post (coming shortly – if you're a gamer, you may have already guessed what I made…) UPDATED: My Lemming collection has been revealed 🙂
And now on to the pattern: Mop Top Mascots.