Last week, I had a request for my catalogue, but, um, I don't have a catalogue… I thought it would be interesting to try putting together a simple one as a PDF file. Sometimes it's handy to see everything on one page (or 5 in this case – I couldn't fit everything onto 1 page without making them ridiculously small!)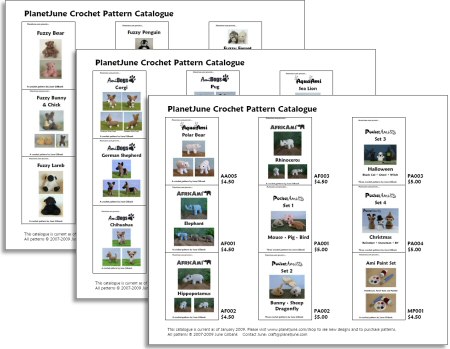 I thought some of you might be interested to flick through it too. It always comes as a surprise when I see exactly how many patterns I have (42 in the catalogue, and I haven't even included all the free patterns). Of course I have new patterns in the works right now, so it won't stay current for long, but I'll keep updating it so if you ever click my 'Pattern Catalogue' link here, in the sidebar, or in the shop, you'll always see the latest version.
Hopefully someone will find this useful!