Looking for how to use my Fuzzy patterns with a regular yarn? Or how to start amigurumi with eyelash yarn (right-handed and left-handed step-by-step tutorials)? If not, read on:
It seems to be a commonly held belief that it's difficult/impossible to crochet with fuzzy/eyelash/fun fur yarn. I've worked with fuzzy yarns a lot, so I thought I should share some advice on how to crochet fuzzy amigurumi toys.
Working with eyelash yarns is a challenge, but here are my tips to make it a little more manageable.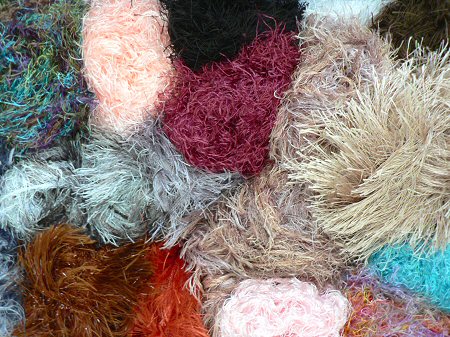 Use a Larger Hook
If you're used to making amigurumi with worsted weight yarn, you'll probably use an E (3.5mm) hook so you don't end up with gaps between your stitches. Fuzzy yarns need a larger hook to make large enough stitches for you to be able to work back into; I recommend a size H (5mm) as a good starting point. While you will end up with larger spaces between your stitches, the fuzziness of the yarn covers those nicely. You may even have success with a still larger hook, depending on how fluffy your particular yarn is – I suggest you try it and see if you like the results.
Relax!
You'll probably need to crochet more loosely (and definitely more slowly!) than you are used to. Ease your hook gently through the fuzz; don't yank it.
Fixing Mistakes
Undoing stitches: If you make a mistake, unravelling stitches can be a pain, but it's not impossible! Unravel one stitch at a time, holding onto the previous stitch with your other hand at the same time so it doesn't get yanked too, and the stitches will slowly come undone. If it does get caught, don't pull hard on the yarn – gently wiggle the stitch you are trying to undo in the opposite direction (as though you've changed your mind about undoing it and want to pull it back to its original shape) and it should free up.
Go with the flow: The good news is that a stitch gained or lost here or there isn't the end of the world with eyelash yarn patterns – the yarn is so fluffy that it'll cover the occasional slip. Use your stitch marker and try to make sure you end up with just about the right number of stitches in each round. If you're one off, fix it in the next round, and it'll all turn out okay!
Finding the Stitches
Having trouble seeing where to insert your hook? Here are some more tips:
Some yarn colours can be easier than others to work with; in general, the stitches are more visible with lighter coloured yarns than with dark or black yarns.
Light your work properly! I use a goose neck desk lamp pointed directly at my project. This makes a huge difference – even in a well-lit room, the stitches will be more visible if you illuminate your work. This will also help when you use dark coloured yarns.
'Feel' for the stitches. If you really can't see your stitches at all, you can run the thumb of your non-hook hand over the work and feel the stitches, which should help you to figure out where to insert your hook next.
PlanetJune 'Fuzzy' Patterns
My fuzzy patterns are designed to be worked in a specific (non-traditional) way that makes it much easier to deal with challenging eyelash yarns, in two specific ways:
They are crocheted in back loops only. It is easier to see where to insert your hook into the stitch, and there is an added bonus: if you forget how many rounds you've completed, turn the work inside out and count the 'rings' left by the front loops – there will be 1 ring per round you have completed.

They are worked with the 'wrong' side of the work as the outside. When you crochet with a fuzzy yarn, most of the fluff ends up on the back of the piece. If you crochet around the outside rim of each piece, as with most amigurumi, the result would be patchy on the outside, and very fluffy on the inside. So, you can either turn your work after crocheting most of it and before stuffing, or crochet around the inside rim of each piece, which eliminates the turning step.

Here's how to work around the inside rim of your work (i.e. the right side of the work will be the back of each stitch as you make it): as shown below, turn the piece so your hook is always at the side of the round that's furthest away from you:


To put it another way, always insert your hook from the middle towards the outside:


This way, most of the 'fuzz' will stay on the outside of the piece, which has two benefits:

You don't have to turn your work inside out when you finish – the 'fuzzy' side is already the outside. (If you prefer to work the other way and then turn your work inside out, you will find the last rounds (after turning) are very difficult – once the fuzz is on the outside, it is almost impossible to see where to insert your hook!)
As you are working in the round, the piece is not turned, so you will always be working into the less fuzzy side of the piece (the inside), and it is much easier to see your stitches.


The right side of the work (outside) – note it is lovely and fuzzy and the stitches are practically invisible.


The wrong side of the work (inside) – note it is much less fuzzy and it is much easier to see the stitches. The arrows show the front loops of stitches from 2 rounds – by counting those 'rings' of front loops, you can see how many rounds you've made if you lose your place in the pattern!
You can also use these techniques to crochet an eyelash yarn toy without using a pattern – you should find it much easier to make eyelash amigurumi this way than if you crochet the traditional way (in both loops, and with the fronts of the stitches facing the outside of the piece as you crochet).
Choosing Yarn
All fuzzy yarn is not created equal. There are many different brands and varieties of eyelash yarn, and some are easier to crochet with than others. Very broadly, there are three main types of eyelash yarn:
Thin core (e.g. Red Heart Foxy, Bernat Eye Lash, Lion Brand Fun Fur, Patons Cha Cha). This type will give a very fluffy, fuzzy toy, although some of the detail in the shaping of the toy can be lost within the fuzziness. I make a lot of my amigurumi from this type, and give some more pointers above.
Thick core (e.g. Bernat Baby Lash). This type is generally easier to work with, as the core of the yarn is thicker and so easier to see. The result is a larger toy, with more visible stitches and a well-defined shape. You can emulate this type of yarn by working with a strand of thin core eyelash held together with a strand of lightweight (sport/DK) yarn of a similar shade. However, if you plan to do this, do make a swatch of your test yarns, to check that your finished toy doesn't look too sparse/threadbare (unless you're going for that look!)
Fringed (e.g. Bernat Boa). The 'lashes' stick out perpendicular to the yarn, as opposed to the wispier nature of the other types. I recommend you avoid this type of yarn, as it can be difficult to see where to insert your crochet hook into the previous round of stitches.
Within these three broad categories, you can achieve very different looks depending on whether the 'lashes' are long/short, straight/curly, intermittent/plentiful etc etc.


There are also different kinds of 'fuzzy' yarns, e.g. fluffy mohair blends, chenille or boucle. Any yarn with some textural variety will give a more interesting effect to your finished piece. Don't be put off if the first fuzzy yarn you try leaves you frustrated – keep experimenting until you find yarns you like to work with!
An Easier Option…
Or, if all this is just too frustrating for you, you can crochet with a regular (smooth) yarn and then brush the finished pieces to make them fluffy – it's a different, and much easier, way to achieve a fluffy crocheted toy! See my Fuzzy to Brushed Crochet tutorial for instructions.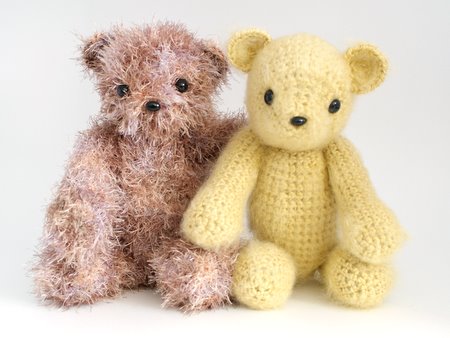 These are both made from my Fuzzy Bear pattern! L: eyelash yarn; R: standard acrylic yarn (brushed)
---
Do you find my tutorials helpful? If so, please consider making a contribution towards my time so I can continue to create clear and concise tutorials for you:
Thank you so much for your support! Now click below for loads more crochet video and photo tutorials (and do let me know what else you'd like me to cover in future tutorials…)