Looking for my Fuzzy Yarn Tips? If not, read on:
One pattern, two looks! Here's another way to create a furry crocheted animal, without using fuzzy yarn.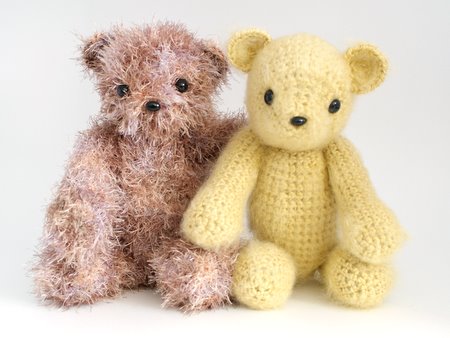 L: eyelash yarn. R: acrylic yarn, brushed. Both use my Fuzzy Bear pattern
Incidentally, when I refer to 'fuzzy' yarn, I'm talking about eyelash yarn, novelty yarn, textured yarn – whatever you want to call it. Any yarn that has some sort of fluff, bumps or lashes. (See my Fuzzy Yarn Tips for more on different types of fuzzy yarn and how to use them to crochet amigurumi.)
You can crochet with any regular yarn (wool and other natural fibres work very well, but acrylic and other yarns work too – see my brushed crochet experiments for proof) and then brush each piece with a wire brush after crocheting to release some of the fibres from the yarn and create fluff. The advantages of this method are that it's much easier to crochet using a regular yarn than a fuzzy yarn, and you can use any yarn you want to, so it's much easier to find the perfect colour for your project.
My fuzzy patterns are written slightly differently to most amigurumi patterns. They are worked in the round, in a spiral, just like regular amigurumi, but with 2 key differences:
1. Back loops only (BLO)
It can be hard to see where to insert your hook when you work with a fuzzy yarn. Working in the back loops helps to alleviate this, as the back loops stick up away from the work, whereas the front loops sit on top of the other loops that form the stitch.
You may think "well, I'm using a regular yarn so I'll ignore the 'back loops only' instruction and crochet the usual way". Please don't – the stitches are not interchangeable! BLO crochet is more open and the stitches are taller. If you work a BLO pattern in both loops, you'll get a misshapen result: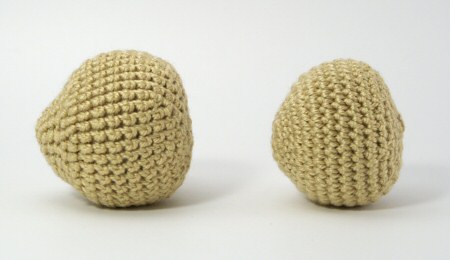 L: Fuzzy Bear head pattern worked in BLO
R: Fuzzy Bear head pattern worked in both loops
(In the pic above, both heads are facing the left.) See how the shaping of the muzzle is almost lost when it's worked in both loops, and it looks like it's been squashed from front to back?
2. Worked 'inside out'
When you crochet with a fuzzy yarn, most of the fluff ends up on the back of the piece. If you crochet around the outside rim of each piece, as with most amigurumi, the result would be patchy on the outside, and very fluffy on the inside. So, you can either turn your work after crocheting most of it and before stuffing, or crochet around the inside rim of each piece, which eliminates the turning step.
Although fluff on the inside isn't a problem with a regular yarn, there's still a good reason to work around the inside rim, but before I explain that, I'll clarify what I mean by the inside and outside rims: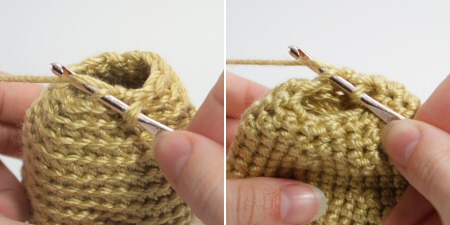 L: working around the outside rim. Hook is inserted from outside to inside of piece to begin stitch (towards the middle of the hole).
R: working around the inside rim. Hook is inserted from inside to outside of piece to begin stitch. Notice that the active stitch is at the back of the hole.
Now, why work around the inside rim? When you work in BLO, the unworked loops form a horizontal line that is visible in the finished piece. If you work around the inside rim (or turn your work after crocheting) those horizontal stripes will be hidden.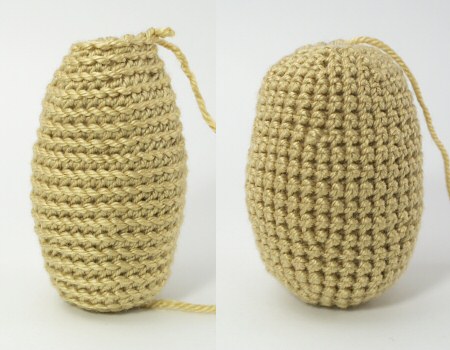 L: Visible horizonal stripes caused by working in BLO
R: Working around the inside rim (or turning the work after crocheting) eliminates those stripes
If you're planning to brush your animal until the stitches are pretty much obscured, this may not matter to you, but I prefer to hide the stripes by crocheting around the inside rim so that the stripes form on the inside of the piece.
How to convert the pattern
Follow the stitches as written (i.e. use back loops only where specified)
Reduce your crochet hook size. Fuzzy yarns need a larger hook than usual; you'll need to choose an appropriate hook size for your yarn. For worsted weight yarn, a size E (3.5mm) is a great choice for amigurumi. For a larger animal, try bulky weight yarn and a G (4 or 4.5mm) hook. Just use the same yarn and hook that you'd use for other amigurumi.
Note that your animal will probably end up smaller than the fuzzy one, because of the smaller hook and the lack of fluff, so you'll most likely need smaller eyes than those recommended in the pattern.
Brush each piece with a wire brush (e.g. a pet slicker brush) after crocheting it, and before stitching the pieces together. Brush with a reasonable amount of force – if you are too gentle you won't generate any fluff. It will probably take around 10-20 strokes over each area of the piece for the fluff to come up. Also be sure to brush the head before attaching the eyes, so they don't get scratched by the brush. Keep brushing until the piece is as fluffy as you'd like it to be.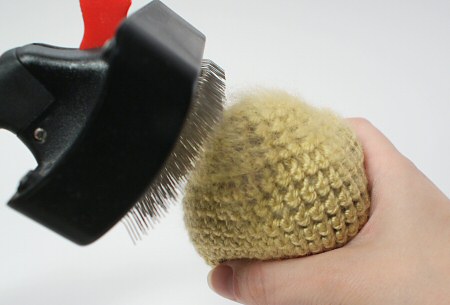 If you're using an acrylic yarn, even just brushing it a bit, as below, will take away that acrylic 'sheen' and give a soft, fluffy appearance. It's like a halo of fluff around the animal, and looks really sweet.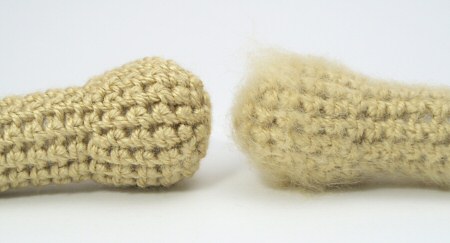 Fuzzy Bear arms, before and after brushing
Note that I purposely didn't brush my bear too hard, because I like the antique/threadbare look above. But you could keep brushing all the pieces until your stitches are practically invisible, if you'd prefer.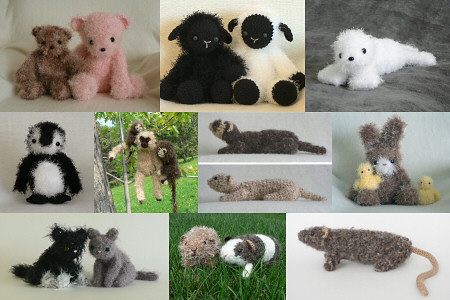 Now you have the option of making all my fuzzy patterns with regular yarn! And if you have any more pattern-specific questions, you can always e-mail me for additional assistance 🙂
Hope you found this useful!
---
Do you find my tutorials helpful? If so, please consider making a contribution towards my time so I can continue to create clear and concise tutorials for you:
Thank you so much for your support! Now click below for loads more crochet video and photo tutorials (and do let me know what else you'd like me to cover in future tutorials…)