After the comment discussion yesterday about brushed crochet, whether I should have brushed the tail of my fox, and which kind of yarns you can brush, I realised that I didn't actually have a definitive answer to give for that…
The technique of brushed crochet originated with is apparently an old long-forgotten technique that was reinvented by my good friend Brie aka Wibit/Roman Sock with her wonderful brushed animals and brushed crochet tutorial. Since then, brushed crochet has been popping up here and there, but there is no actual 'yes/no' list for which yarns can be brushed!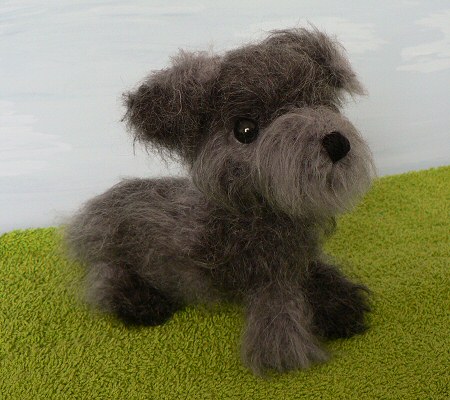 I made this Miniature Schnauzer puppy with the brushed crochet technique
I already know that wool, mohair and bamboo yarns work for brushed crochet, but I've read that acrylic and cotton yarns should not be used (why is that?). So, time for an experiment…
Hunting through my box of crocheted scraps and rejected pieces, I found an 100% acrylic grey piece, and a failed prototype made from black acrylic and green 100% cotton – perfect test candidates for the 'do not use' yarns. Here are the results after a little brushing with a pet slicker brush:

Acrylic yarn after brushing (right side is unbrushed for comparison)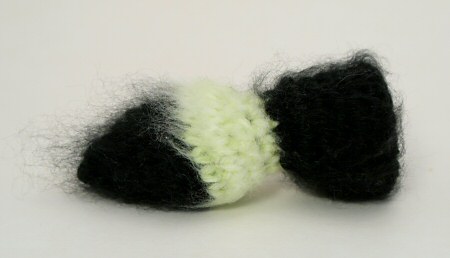 Black: acrylic yarn. Green: cotton yarn.
Guess what? They both fluffed up, and the yarns didn't break! It was more difficult to generate fluff with the cotton and acrylic yarns than with the mohair blends I've used previously – you need to brush for longer to get the fluff to appear (especially with the cotton, which I suspect would never give a fully furry effect). The acrylic also made a sort of crinkly looking fluff, so wouldn't be as good for a natural fur effect.
But, in general, I say brush away! Based on this experiment, I think any kind of yarn would work to some extent – if in doubt, crochet a small swatch first and brush it out to make sure the yarn doesn't break and your work unravel before you achieve your desired level of fluffiness! All you need to get started is a wire pet slicker brush and a little patience.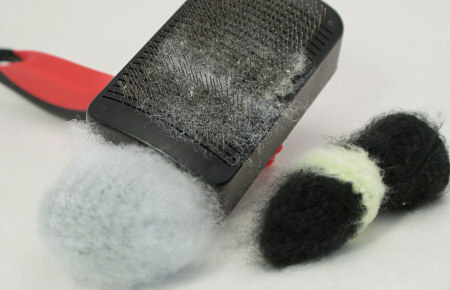 Be aware that this is a destructive technique – the brush yanks fibres out of the yarn, and in the process some fibres come out completely and are left on the brush (as you can see in the above photo). So please do use caution, and test-brush a swatch before risking something you've spent a long time creating.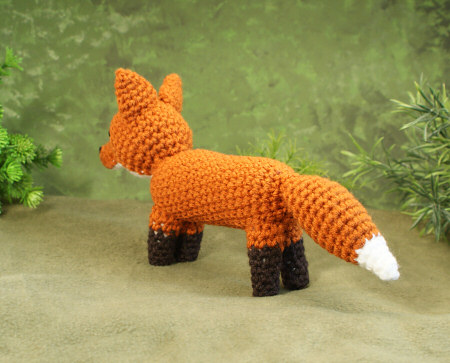 I still won't be brushing out the tail on my red fox. Brushing masks the shape of the underlying crocheted piece and I don't want that for my fox. But if you buy the pattern (coming soon!) then feel free to try brushing out the tail of your foxes – no matter which type of yarn you choose to crochet it from 🙂