I have a new item available in my shop today: stitch markers for crocheters. The regular ring-shaped stitch markers used by knitters are no good for crochet, as there's no way to remove the marker from the stitch without cutting it off! Stitch markers for crochet need an opening so they can be slipped off the stitch when you have finished with them.
I've been using Susan Bates aluminum stitch markers, but they are expensive (a couple of dollars each) and I keep losing them! Using a scrap of contrasting yarn can leave fibres of the wrong colour on your work. I've used coilless safety pins too, but the point of the pin is so sharp that it's easy to split the yarn by mistake.
Now I've managed to source these wonderful plastic stitch markers for you! They look like a cuter version of a coilless safety pin and come in 5 translucent colours.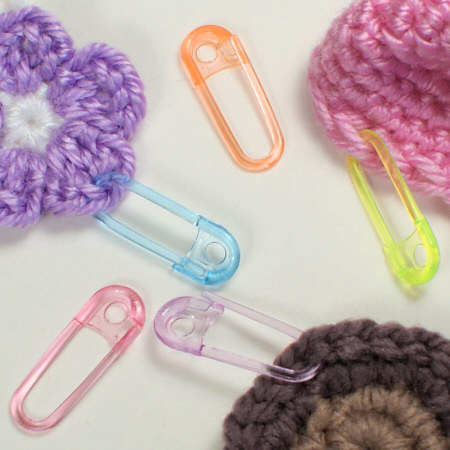 Aren't they adorable?
These 3cm (1.2″) long stitch markers open and close like a real safety pin, so you can be sure that your marker won't fall out in transit. The plastic tip is rounded so it won't split your yarn. And, best of all, I've managed to get a great price for you – they are so inexpensive that if you do lose one, it won't be the end of the world!
Crochet stitch markers are now available from my shop for $0.50 each, with big discounts if you buy in bulk:
Save 30% when you buy 3 or more
Save 40% when you buy 10 or more
It's always useful to have a few spare stitch markers on hand to stop your UFOs (UnFinished Objects) from unravelling, until you get around to working on them again! And these markers would make great mini gifts for your crocheter friends too, so why not stock up and save?