Since I posted pics of my crocheted miniature schnauzer puppy, I've received several requests for a pattern. There is no pattern as such, as it was a hybrid between my AmiDogs designs and Roman Sock's brushed crochet idea. But you can recreate my hybrid to make a dog of your own, using this magic formula:

Not enough information? Read on for more detailed instructions…
Ingredients
Method
Find an appropriate yarn (see the Brushed Crochet tutorial for yarn ideas) – I used Patons Spirit. You only need one colour of yarn.
Crochet the pieces for the Boston Terrier, following the pattern as written, except for the following points:

Use a size G or H (4.5-5mm) crochet hook
Ignore the colour changes and work all stitches in the same yarn.
Use 12mm animal eyes as your puppy will be larger than the Boston Terrier (it's approx 9 inches in length)

Brush out all the pieces (see the Brushed Crochet tutorial for instructions).
Sew the pieces together as per the Boston Terrier pattern. I made my schnauzer sit by positioning the back legs alongside the body instead of underneath, but either standing or sitting is fine. The tail should be sewn on at the very back of the body, pointing down, not sticking up as with the Boston.
Fold the ears forward and secure in this position. (If you need more help with this step, you can find more detailed illustrated instructions in my AmiDogs Jack Russell Terrier pattern).
Brush the finished dog some more to disguise the joins.
Trim the long hair on the dog's muzzle into a schnauzer-y shape 🙂
Enjoy your cute little schnauzer puppy!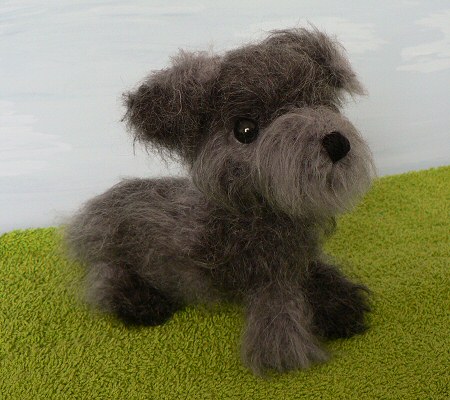 FYI, if you would like to buy both Boston Terrier and Jack Russell Terrier patterns, they are also available as part of AmiDogs Set 2.