Way back in February I posted some crochet WIPs. I finished the granny square throw shortly afterwards, but never quite got around to finishing this scarflet:
Once winter ended, it seemed a bit strange to be working on a scarf. Plus, it's my first attempt at tunisian crochet, and the stitch pattern is a bit complicated, so every time I picked it up, I had to relearn the stitches. But I had some time this week, so I decided to finally finish it so it'll be ready for the cold weather. And here it is, ready to wear: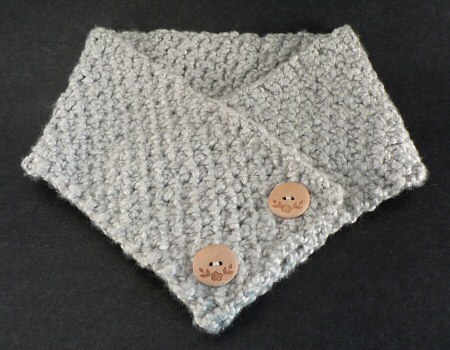 I used Bernat Bamboo yarn in Dill. It's a wonderfully soft yarn, with none of the itch factor that I normally get from yarn against my neck. These photographs really don't do it justice: the lovely subtle green shade just refuses to photograph properly.
I decided to carry on the 'natural' theme from the bamboo yarn (it really is made from 89% bamboo!) and I found these sweet little wooden buttons with a woodburned flower design to finish it off: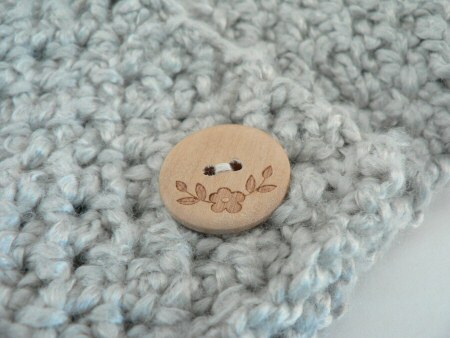 A scarflet is such a clever little design; here's a little picture of me to give you an idea of how it works: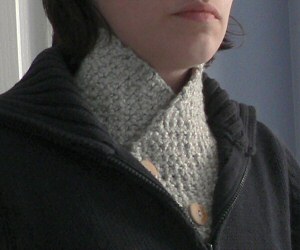 I enjoyed the tunisian crochet, although I think I should have started with a simpler stitch for my first attempt. With hindsight, I see that the Bamboo yarn doesn't have good stitch definition, so I could have made the scarflet with a basic tunisian stitch and got the same effect in much less time.
But overall, I love the scarflet. Almost enough to make me look forward to winter (okay, not quite that much)! I can't wait to wear it; the yarn is dreamily soft, and the tunisian crochet makes it thick and warm whilst avoiding the bulk of having a scarf wrapped around and around my neck.