Wow, someone in the gaming/tech world discovered my amigurumi lemmings last week, and there's been an explosion of interest and blog posts featuring them ever since! Welcome, gamers, to the world of PlanetJune 🙂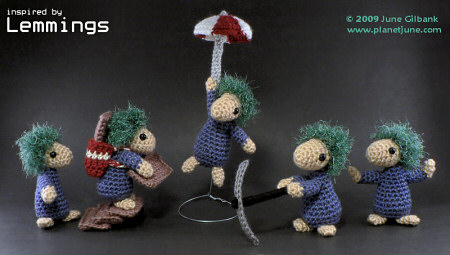 Please click through to see the full-size image – it looks so much better that way!
I've been getting so many requests to make sets of lemmings, I thought I'd address the issue here to save me answering it hundreds of times…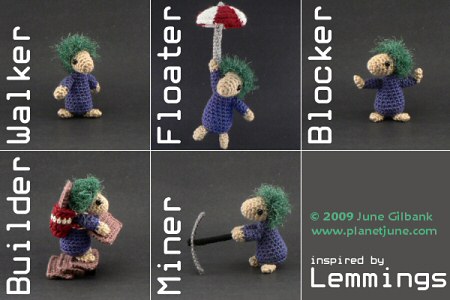 Click through to see the full-size image
I don't think I could create a duplicate of all the lemmings I made – the walker and blocker would be fine, but the accessories for the other three took literally hours and hours to make each one, which would make my price ridiculously high! But if you're interested in some walkers and/or blockers, I'd be happy to create them for you. Here's an example of a commissioned set of two walkers and a blocker that I recently completed: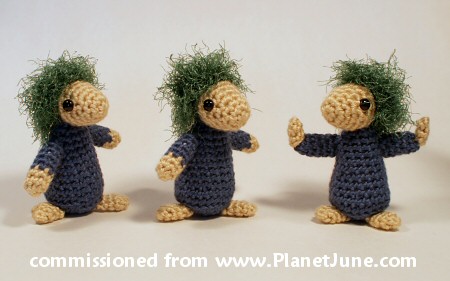 My rates are artist's rates as I'm a busy designer and writer, and don't have time to create all the creatures I have requests for on a daily basis. If you think my prices are too high, you don't appreciate the time and care I put into each one of my creations. If you're interested in one or more custom-made lemmings, please e-mail me and we can discuss it!
So that I can stay sane, I will only accept a couple of orders per month – I have no desire to become a lemming-making factory – so please let me know if you have an urgent deadline or are prepared to wait a while for your lemming(s) 🙂