Remember in the 'early days' of making amigurumi, when we didn't know about the Magic Ring? Remember what an aha! moment it was when you figured out how to do it, and how we've never looked back since?
Today I have what I think will be the next aha! moment for amigurumi makers: the invisible decrease. I'm showing it here because nobody I have spoken to knows how to do it (or even that it exists!), and it really does make a difference to the finish of your pieces.
Let's briefly look at other options for decreasing in single crochet:
skipping stitches: leaves gaps in your work where the stuffing can show through
sc2tog (sc decrease): leaves a slight bump and a longer bar visible in the stitch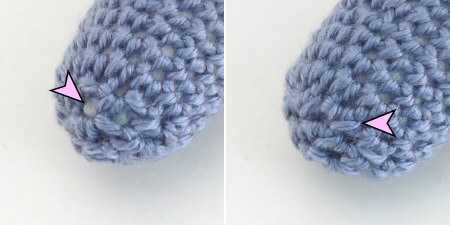 L: skipped stitches (arrow marks hole);
R: sc2tog (arrow marks obtrusive 'line' made by bar of stitch)
The invisible decrease (invdec) method is different; as good as its name, it's practically invisible, even if you know what you're looking for! The reason for this is that it groups the previous stitches together at its base, so the stitch itself looks identical to a regular single crochet.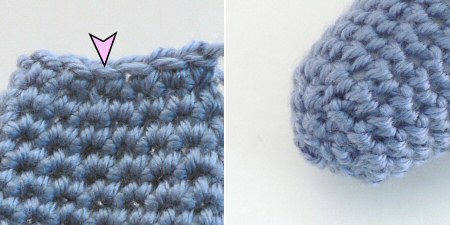 L: the invdec (marked with arrow) looks just like the other stitches in the row;
R: the result is smooth and even
See? It's like magic! Now click through to the Invisible Decrease tutorial…