My husband is a maker like me, but he prefers wood, metal and plastic to yarn and fibre, so our hobbies rarely intersect. But he has his own 3D printers, which means he can make custom plastic stuff for me if I ask. While I love that idea in theory, I've struggled in the past to think of anything that would be useful – there's no point adding more plastic rubbish into the world just because it's possible to make it.
Lately, though, I've been full of ideas for useful items, and Dave has brought them to life for me – I thought you might like to see what we've come up with…
USB Cable Holder
I use a long USB cable to plug my camera into my computer so I can transfer my photos without having to remove the memory card every time I want to check if I've captured the shot I needed.
I've been using a sticky-backed cable clip, but I've gone though two of them now – after a while, the adhesive fails and they fall off the edge of my desk. I thought that something that clipped onto the edge of the desk would be sturdier and less likely to fall off.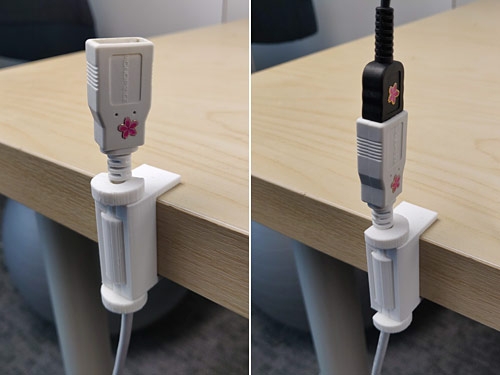 I found this design on Thingiverse – a database of free printable designs – and Dave customized it to fit the height of my desk perfectly. It has a clever swivel barrel so I can remove the cable if necessary, but it's firmly locked in place the rest of the time. It's perfect!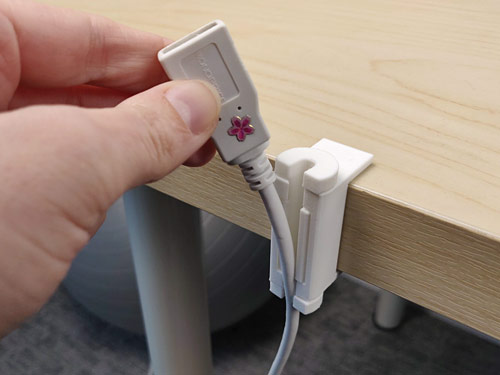 In case you're wondering, the matching flower stickers mean I always know which way to insert the USB plug into the socket 😉
Sprouting Jar Tray
You may remember that I grow my own sprouts on my kitchen windowsill. The jars leave watermarks on the windowsill, and, while the marks have wiped off easily so far, I don't want to risk damaging the wood.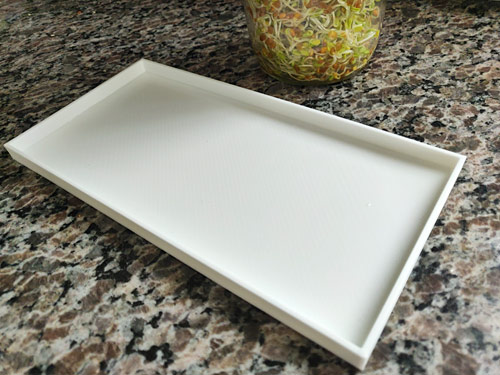 I requested a very shallow tray, just long enough to fit the sprouting jar and no wider than the windowsill. We measured up, Dave designed and printed it, and look what I have now!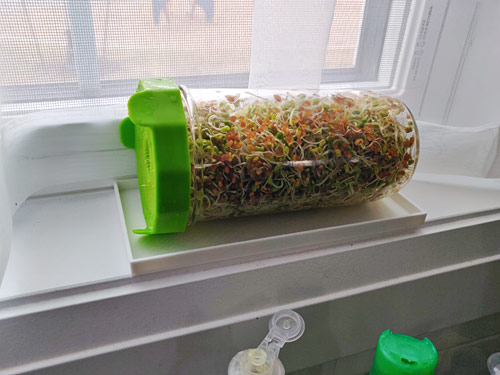 It's just what I needed, and nicely unobtrusive in white to match the windowsill.
Tea Dividers
This is my best idea yet! I designed my kitchen to include a narrow spice cupboard, with the intention of using it for teas instead of spices. It's great in theory, but boxes of individually-wrapped tea bags took up too much space horizontally and were too tall to fit vertically.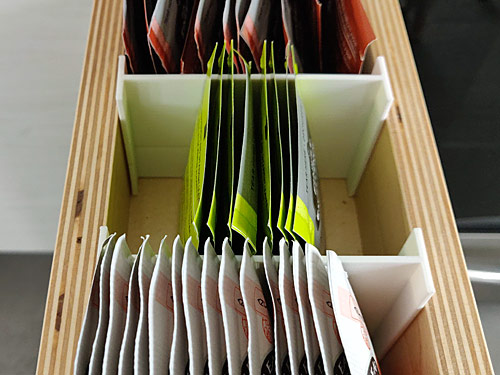 I figured out that by taking the tea bags out of the boxes, we could effectively double the space! We came up with this design between us using a few cardboard prototypes until we figured out that this I-beam shape would work well as a divider that always stays upright.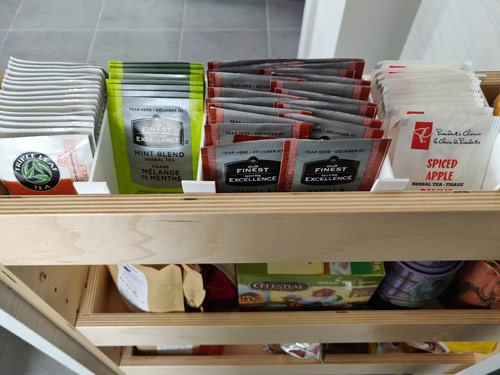 With these dividers, I can fit 4 different types of tea where 2 boxes used to sit, I can move the dividers to fit the current stock of tea bags, and, as a bonus, the tea bags are more accessible too.
---
I'm finally seeing the benefit of having a 3D printer (and an experienced operator) in the house! Isn't technology great? It's amazing, coming up with an idea and having the physical product in my hands just a few hours later.
I'm sure there must be more handy items that we could design and print to make our lives easier. I wonder what we'll think up next…