My craft room/office is upstairs, so it gets pretty hot in summer without the air conditioning on, especially with my big computer purring away generating heat all day. I didn't want to run the air conditioning in the house all day, every day, when I only use this one room during the daytime, so I bought myself a cheap desk fan. It works really well – I don't feel sluggish any more, and my concentration has increased dramatically! The only downside is that it's not pretty. Not at all: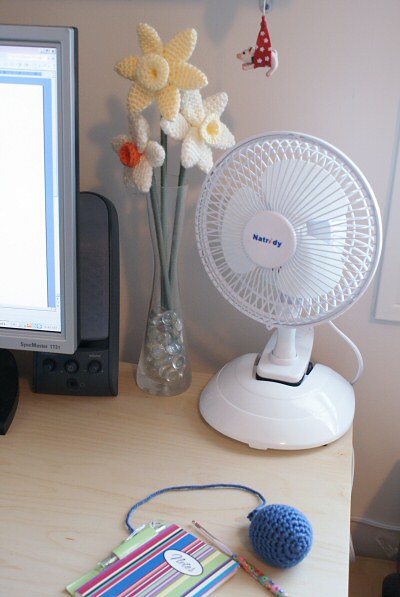 Ugh, that's really not what I want to look all day – it's hardly part of my ideal creative ambience! Now, if only there was something I could do to improve the appearance… Hang on – I'm a crafter! I make things! No problemo: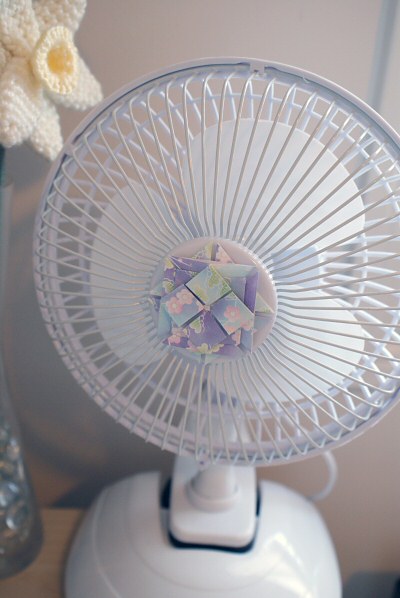 I revisited my own teabag folding tutorial, and used some beautiful origami paper from Alice to make a little paper medallion to cover the logo in the centre of the fan. It makes such a difference to the overall appearance. Notice the cool colour palette in the paper design, which adds to the effect of the fan – now just looking at it makes me feel cooler!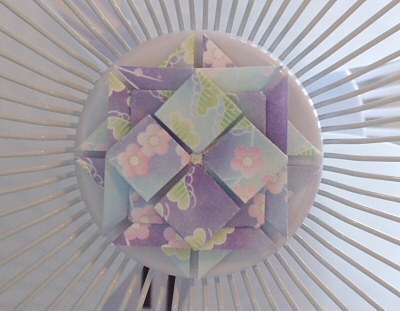 It's just a little thing, but it makes me happy 🙂
In case you'd like to make your own paper embellishments, I used two squares of 3″ origami paper which I quartered to make eight 1.5″ squares. This made a medallion of just over 2″ wide. To make a larger medallion, just start with larger paper squares. See my tutorial for the simple instructions – it's a lot easier than it looks!