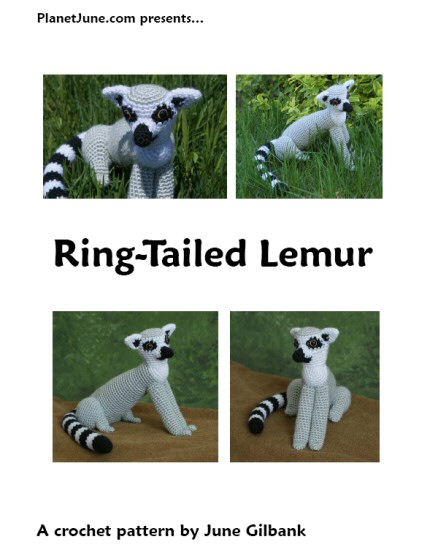 It's taken some time, but my Ring-Tailed Lemur crochet pattern is finally ready and available in the shop. A little info about this pattern and why it's taken so long to prepare: it's definitely an intermediate level pattern – not for beginners! Here's why:
There are multiple colour changes in the head. If you need a refresher on how to make neat colour changes in single crochet, see my Colour Changes tutorial.
After all the pieces are crocheted, there's a lot of stitching together to do. See my Joining Amigurumi tutorial for tips on how to stitch pieces together neatly.
If all this sounds daunting, don't worry! The pattern is 11 pages long, with very detailed step-by-step instructions, and photographs to accompany every step. And, as with all my patterns, you can always e-mail me if you have any queries – I'm always happy to help!
Because I'm feeling generous, I'm offering all this for only $5 – I know we all need a break in this economy, so this is my price break for you 🙂
I hope you'll enjoy the Ring-Tailed Lemur pattern!