The Basic Explanation
To make a neat colour change, keep an eye out in your crochet pattern or instructions for the approaching change. As you make the last stitch in the old colour, pause before the last step of that stitch. For the final 'yarn over and draw through all loops on hook', substitute the new yarn, so you draw the new yarn through your loops. This gives a cleaner edge to the colour change.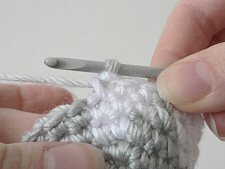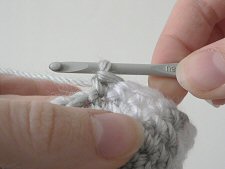 Left: last loop of previous stitch uses new colour; Right: first complete stitch in new colour
Full Tutorials
Need more details? For full illustrated step-by-step instructions, jump to: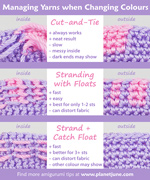 Managing the Yarns
There's no one 'right' way to deal with yarn ends and carrying colours, and it's up to you which method(s) you find to be the best combination of fast, easy, and with a good end result.
But if you'd like my recommendations for how best to manage your yarns when you make multiple-colour amigurumi, see my tutorial Changing Colour: Managing the Yarns.
Thank you so much for taking the time to leave a comment here! I read and appreciate every comment. I only respond to questions here on the blog, so please return to this page to see my reply, or check the box below to subscribe to new comments by email.
Please note that I can only answer questions related to PlanetJune patterns and tutorials (see details), and I can only respond to questions or comments written in English. Thank you :) - June