I have a new Crochet Quickies video for you today, showing how to make clean colour changes for amigurumi. This is the same basic technique I explain in my original Changing Colour tutorial (and you may also want to check out my tutorial Changing Colour: Managing the Yarns for my advice on what to do with all the yarn tails you end up with when you're changing colour).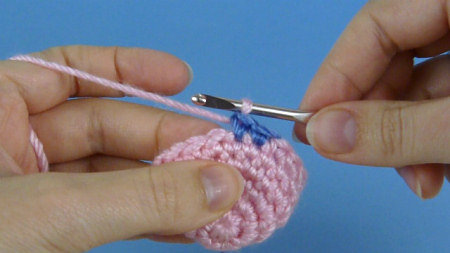 In this short video, I demo the colour change technique, and show you what happens if you don't use this method!
Crochet Quickie: Changing Colour (right-handed)
Click to watch this video on YouTube.
Crochet Quickie: Changing Colour (left-handed)
Click to watch this video on YouTube.
Note: The videos may look a little small embedded in the blog: if so, you can fullscreen them or click through to YouTube to watch them full-sized 🙂
Although I'm demoing with single crochet for amigurumi purposes, you can also use this technique with any other crochet stitches, to give cleaner colour changes. The trick is to always pull through the last loop of the stitch before the colour change with the new colour, no matter which crochet stitch you're using.
(I've made this video now for a reason: you'll need to know this as background info for a brand new exclusive crochet technique that I'll be demonstrating in my next crochet video…)
If you enjoy my crochet tutorial videos, please help to spread the word about them, and/or subscribe to the PlanetJune YouTube channel.
---
Do you find my tutorials helpful? If so, please consider making a contribution towards my time so I can continue to create clear and concise tutorials for you:
Thank you so much for your support! Now click below for loads more crochet video and photo tutorials (and do let me know what else you'd like me to cover in future tutorials…)