Maui loves his double-wide corrugated cardboard scratchers – it's the only type he'll use. The pet shops here are tiny, with very little selection, and this type of scratcher doesn't seem to be available anywhere. Luckily, we have an almost-infinite supply of boxes stored in our garage, which I kept after our move for just such thrifty/crafty purposes…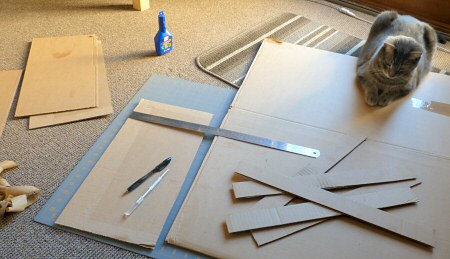 Maui supervises as I get to work
The flaps of the moving boxes just happen to be exactly the same width as the length of Maui's old scratcher, so I kept the old outer box and cut 1.75″ strips of corrugated cardboard to make a new scratching surface. Measure, mark, cut, repeat… I needed 60 strips to fill the old outer box.

Measuring and cutting strips of cardboard
After that, I just ran a line of white glue along the centre of the length of each strip, stacked them all together, and applied pressure for a couple of minutes so they are all packed tightly together. Edge on, you have the perfect scratching surface for the demanding kitty: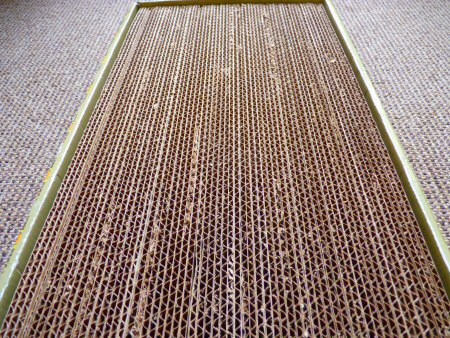 As good as bought!
Cutting 60 strips was a lot more effort than I thought it would be – I had to split the task over several days, as my hand holding the ruler in position would start to ache after 5 or 10 strips. If I still had access to buy a new scratcher instead, I would. But, as I don't, it's worth a little hard work to make one for Maui every now and then.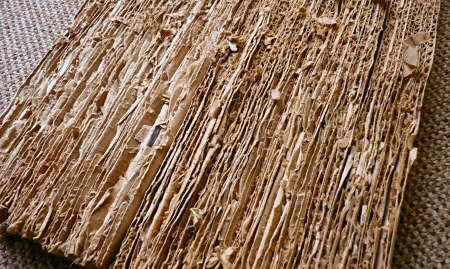 This is the state of the old one – better that Maui does this to the cardboard than to our furniture!
As a bonus, it's fully reversible, so when it looks like the photo above, I can just flip it over, and Maui will have another new scratching surface to decimate before I have to make another one.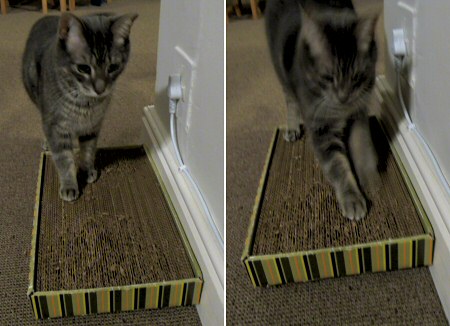 After extensive quality control testing, Maui proclaims it totally scratch-worthy.
A happy cat = time well spent!